Matthew Ché Kowal was honored to be sponsored by and The Mellon Foundation, Denver Arts &Venues and Create Denver to attend the Event Safety Alliance Summit on Nov 28 – Nov 30, 2018 in Lititz, Pennsylvania.
This year's event, "Designing for Safety: Planning, Creativity, and the Art of Problem Solving," explored intentional design and safety/operational plans, training, event structures, and careers. This year's summit was a comprehensive and inclusive survey of all aspects of event emergency preparedness, comprised of over 20 presentations by the very best folks in the industry.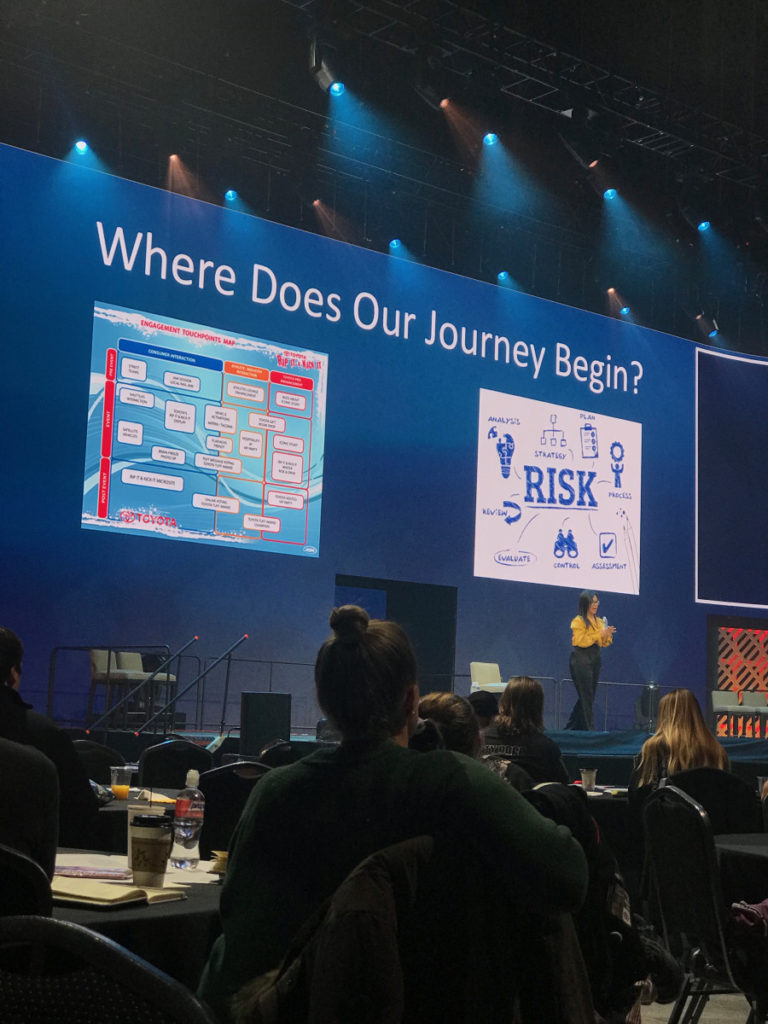 At the summit, Kowal spent several days networking, workshopping, and participating in positive collaborations with key players concerning everything that could possibly go wrong with crowds and events. While he wasn't able to experience every single presentation, since some took place simultaneously, he was able to attend many important workshops, forums, and activities concerning the importance of preparation for the worst and making secure and sound emergency decisions for each and every community.
The first session set an excellent context for the Event Safety Alliance Summit. Dominic Housiaux presented "Designing for Safety," which would have been a great topic for a 99% Invisible Podcast! We love this podcast because they dive deeply into design concepts, providing robust knowledge about diverse design of all kinds. Their website also supplies visuals and resources to deepen learning about each topic. We would recommend starting with Fire and Rain, as well as A Year in the Dark.
"Simulation as a Tool for Improving Outcomes" was introduced by Emma Parkinson, course director of Emergency Planning and Crowded Places at Coventry University in Bath, UK. She presented scenarios, as bomb threats or snowstorms, highlighting her concept of finding creative ways to manufacture "injects," or creative twists that allow event producers and staff to envision scenarios outside the natural realm of thought. We learned that creating "injects" to solve complex scenarios can result in enhanced mental plasticity! Very cool. Parkinson's presentation reminded us of the experience of a friend who was in attendance at the Boston Marathon in 2013, when there were a series of bombs at the finish line. She fortunately was not at the finish line, but a friend of hers was. She had run the race three months pregnant, and was in the medic tent when the first bomb went off. The methods of that attack could have been one of the "far-fetched" scenarios we postulated at the Summit, but the Boston Marathon bombing wasn't just theoretical. It was real and effected real people. This is a real-life reminder that scenarios are incredibly important when planning for event safety.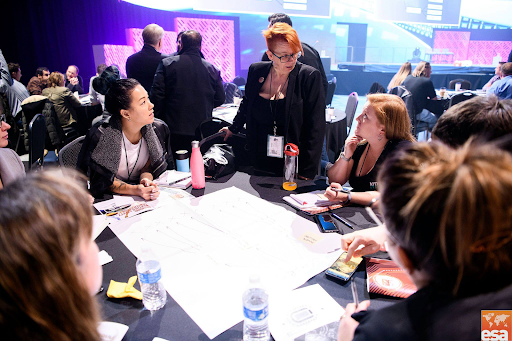 "Advanced Safety Management: Exceptional Circumstances" presented by Virginia Schmitt and Ed Klima gave each team simulated evacuations, taking many factors into account, such as injuries, people with disabilities, exceptional mobility, unique extenuating circumstances, performers on stage, and more. We divided into teams comprised of roles: Team Leader, 911 Caller, and Evacuation Assists, with the goal of protecting lives. We had to identify risks, possible emergencies associated, and create a process for evacuation using Rock Lititz Safety and Evacuation Plans. Each table became a team assigned to 4 hour segments of the remaining conference to be the reliance team and take responsibility for the evacuation, which had twists and challenges of evacuees that needed assists, The team that covered the drill gave a debrief on stage to discuss the learnings. A good rule of thumb is to build skills before you drill. In this case, we were given several announcements starting from the first minutes of the conference about the evacuation plans and building features – exits, etc.
Eric Stuart's "Crowd Management: What's Throng with this Situation?" covered crowd safety and human psychology. Stuart is a recognized leader in crowd management theory and practice; his message contradicts the popular conception that the natural response of crowds in the face of disaster is to panic. Stuart believes that all it takes is simple messaging before an event takes place so that everyone in attendance can have a safe experience: "Messaging is absolutely crucial but it's got to be tailored. It's got to be focused to the people we're trying to address." Mass panic is a reality that we have to anticipate at any public gathering. Awareness and knowledge of best practices in emergency preparedness is a must! Oftentimes, controlling a crowd after a chaotic event can be like "putting toothpaste back in the tube."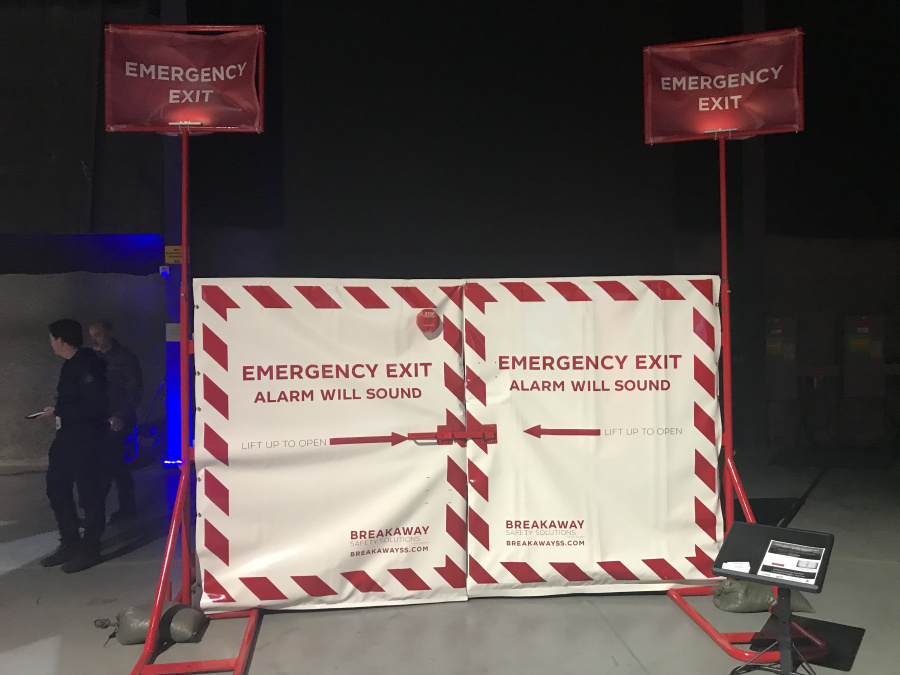 "Exhausted, Under Pressure, and Out of Time" and Dr. Reil and Dominic Housiaux covered the effect of stress on health and decision making, bringing up the cumulative effects of stress on the body, or allostatic load. Stress can wreak havoc on the body. Self awareness is imperative when managing stress on any level. Some basic questions to ask ourselves daily are:  Am I exercising for more than 45 minutes a day? Am I drinking enough water and getting enough natural sunlight? How am I managing my stressors on the job? Am I getting more than 6 hours of sleep every night? Sleep is so important for a healthy body and mind, as emphasized by Dr. Marlene Reil: "We dream for a reason, not just to set goals and fantasize about the future, but to process information. If you're not sleeping, you're not processing."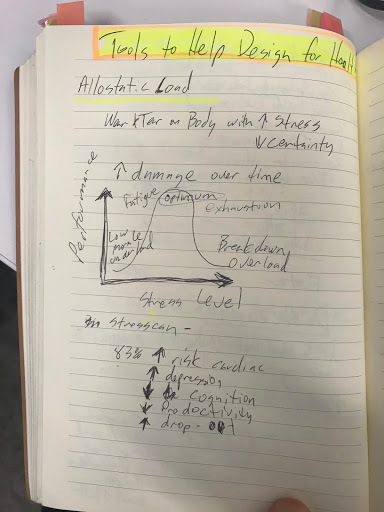 Steven Adelman's take home message in "Your Day in Court: The Challenge of Personal Responsibility," aka "Fun Times in Judge Robes," was that understanding your "duty care" is critical. It's difficult to know the extent to which payouts for damages have been awarded; it seems like court settlements are always reached without disclosing the amount. Adelman directed us through an exercise that explored a court case involving a sledding hill, and the flip/flopping a jury would go through in assigning blame.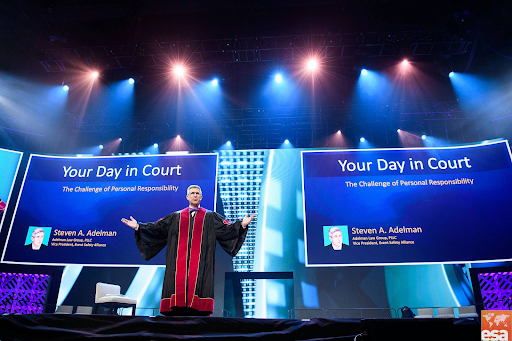 "Resilient Teams" by Dr. Marlene Reil and Dominic Housiaux of Lankey & Limey Ltd demonstrated how resilient teams can still be built even under stress. Dr. Reil and Housiaux took us back to the previous presentation concerning allostatic load, giving us the take home message of understanding uncertainty is important to manage the stress of teams. When exposed to stressors for an extended amount of time, people experience an 83% greater risk of physical and psychological effects, including cardiac arrest, depression, and burn out, as well as a reduction in both cognition and productivity.
"Who's in Charge Here?" Tami Richter, Jen Stiles, Donald Cooper, and Chris Jones presented on the art of explaining safety concerns. Fire marshals and other public safety officials serving as the Authority Having Jurisdiction at events have to explain their safety-concerns to the well-meaning creative misfits who essentially ran away to join the circus. Not an easy task! Show people, in turn, wonder why Authority Having Jurisdictions always seem to say "No" to their most fun ideas. In this session, we peeked over the fence to see how the other half lives and to see things from a different point of view.
"Alas, the best weather app still does not someone a meteorologist make." (from Event Safety Alliance's Facebook). Dr. Kevin Kloesel's "Sunny with a Chance of Lightning" concerned weather safety, and explained the differences between professional meteorology and the fancy graphics and pretty colors of mobile phone apps. Big takeaway here is the benefit of employing a on-call meteorologist for your outdoor event and venues. Whether as a subscription or a one-off, it probably costs less than you think.
Tim Roberts's "Annoying Acronyms: Event Safety Management Plans" was all about event safety management. The crux of this course was understanding and mapping AHJs (Authorities Having Jurisdiction) in your event's sphere. We employed a table exercise planning for a community event in an unnamed town square which included a city and county building. Many of us have planned such events and the exercise became a familiar memory game where we came up with the long list of government offices involved in setting up community events. It was everything from liquor to parade permits. Agencies such as Homeland Security and even the Federal Aviation Administration  (thinking of using a drone?) would be on the list for most festivals. It can be complicated to employ harm-reduction strategies, such as testing for recreational drugs, to large festivals when you consider state and federal jurisdictions. The take home message here would be summed up by the old saying: Prior Preparation and Planning Prevents Poor Performance!
"Tami Richter and Jen Stiles's Mud Baths and Mosh Pits:" Festival/Outdoor Safety Group covered the reality and safety concerns concerning "mud baths" and "mosh pits." We experienced these more than once while Kowal curated and directed festivals like Tour de Fat. There were many presenting professionals and event production personnel in attendance, and they were able to share a wide spectrum of experiences candidly. While some organizations had tried to actively shut down moshing, others remarked the history of the dancing included claiming that Rock & Roll dancers would dislocate hips and should be banned. One festival producer commented that knowing that there was enough room for a mosh pit was an indicator that the crowd was not too dense. Others shared practices of making it easy for patrons to "over-the-wall" of Mojo Barrier if they needed a break from the dance pits. Resoundingly we heard how closed-circuit cameras and staff training for security are essential elements of managing the expanding high-contact dancing, especially at Electronic Dance Music events.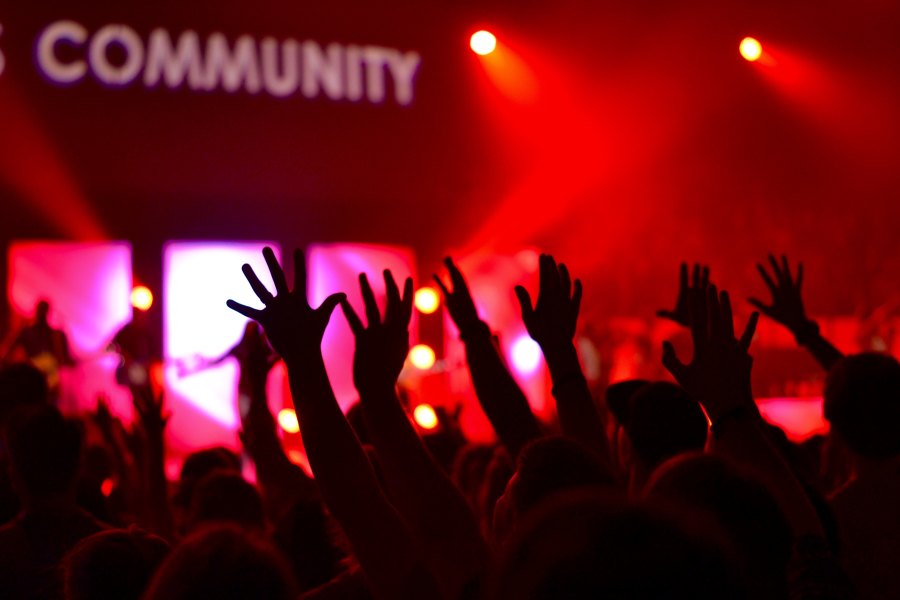 In Friday's "Do No Harm" presentation by Stephanie Jones and Dr. Brezinski, we learned about the importance of harm reduction at festivals. Musicians, producers, support staff – everyone involved becomes family while on tour. It's a team effort to promote wellness, including diet, physical wellness and mental wellness, and sleep. After tours are over, it's common to experience "post tour grief," and we learned the importance of acknowledging and possibly seeking help for this. We broke into groups and discussed five strategies to help touring bands, event production companies, venues, and festivals, and we narrowed down key stressors such as alcohol, decompression after tour, depression, Post Traumatic Stress Disorder. We were shocked to learn that people involved in event production statistically have their first heart attack at 41 years old! Dr. Brezinski, also a musician, was terrified when he himself had an early heart condition; as a result, he started an organization to promote self-awareness in the rock-and-roll world. Dr. Brezinski also discussed providing defibrillators to people on tour, and he told us about the benefits of the Stress Scan app to monitor pulse on the go. Added bonus: Kowal also had the honor of taking an CPR/AED training (automated external defibrillator)and first aid class from Dr. Brezinski.
Engineering Trust by James Kern and Itzel Molina was one of our favorite keynotes. This power-couple covered a lot of ground with their shared knowledge. Molina is brilliant, bilingual, and a "Safety Culture Transformation Leader," and Kern is the producer of corporate branding events for some of the most recognized brands at Experientialism. Our table exercise involved devising an "Attendee Safety Journey" that asked us to contemplate the messaging that patrons received before and during and after the event. Super smart! Especially informative was the optic on how to avoid the often-ignored airline safety announcement scenario. Kowal thought – "This is what I came for!" He and his partner devised a festival in Monterey, Mexico, built on a message climate/carbon reduction concept. We added a family-friendly message to the pre-sale communications, actionable commitments, and wearable ephemera (a black bracelet that symbolizes commitment to carbon reduction) that would take the message out into the world. We are still jazzed by the take-aways from this presentation.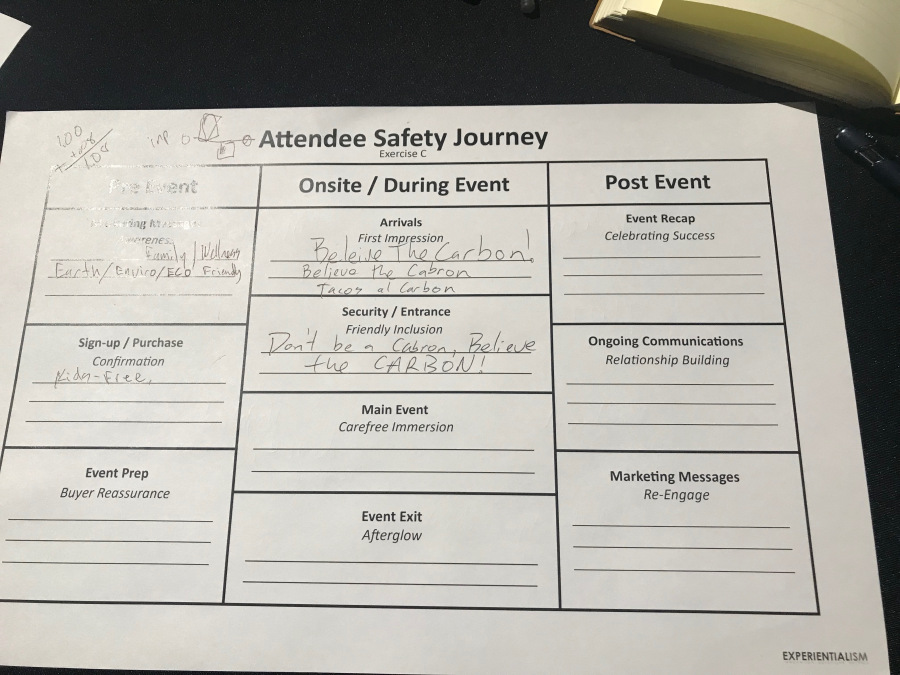 Event Safety as an industry has come such a long way, and continues to strengthen and grows it becomes more and more important to rally around event safety and how it can help us build systems for resilience. Good design fortifies communities, large and small. The importance of planning for the worst even while celebrating the best of event cannot be emphasized enough.
Lastly, a very special thanks to Richard Cadena, author of several books on portable and entertainment electrics. His 14 hour class and certificate program was chock full and well done!