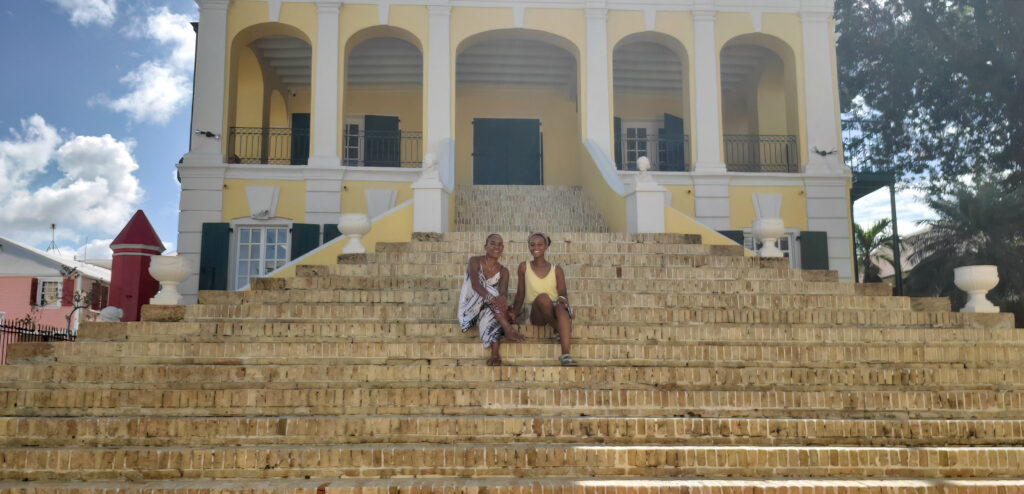 Note:  In October of 2018, dance scholar and community leader Kayla Harley wrote a PAR Case Study "Keeping Dance Alive After Loss in the U.S. Virgin Islands."  This new article brings the story full circle.
It was my first time on a small charter plane. I was leaving the main island of St.Thomas, U.S. Virgin Islands, where I'd spent a few weeks in solitude focusing on self-care to recharge my mind and body before the start of a new year. It was January 2021 the week that President Elect Joe Biden was being sworn into office at the White House and COVID-19 was still at a global height but by then was more manageable with people and businesses starting to return to normal.
The flight was a short one, only about 20 minutes long at most hovering over the waters and beautiful hills of what is known as an extension of the United States (U.S. Territory). Soon enough, I would land and be greeted by Charlita Schuster, Artistic Director of Music in Motion - a woman whom I'd become friends with in a short span of time. Upon landing, her big smile and open arms assured me that I was in the right place at the right time. I reached out to embrace her too - very excited to now be in St. Croix and finally unpack all that had transpired over the course of the years.
In 2018, a bridge between "mainland" and this humble U.S. territory island was built between us when a few contributors from the D.C. dance community and I arranged for boxes of dance clothes, equipment, shoes, etc. to be shipped to Charlita's dance school in an effort to help her recover from the loss and devastation of Hurricanes Irma and Maria. As we drove, talking, laughing, and relating to one another, it became clear that it was more than Communal - this encounter was Spiritual. In just a few days I would meet some of her dancers from Music in Motion School of Higher Education in Dance and my life would be changed forever.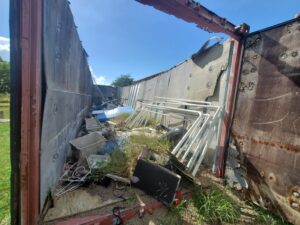 After aid was sent to Music and Motion, the response from Charlita's students was one of gratitude and yet at the same time - it was one of sheer disbelief, "...we can't believe that people would go to so much trouble to keep us dancing!", the student's replied. While on island, I examined the studio's storage container - an iron tank that sits on the lawn next to Charlita's home in St. Croix which stores all that was left of her school following the storm. Broken and rusted ballet barres, pieces of rubble, torn acrobatic mats, dusty electronic parts, etc. - wow. Undoubtedly this storm was a powerful one, and Charlita had done her best to preserve the pieces of it, as well as pieces of herself that were left. She was offered a grant by the U.S. Virgin Island Arts Council, a blessing that just about covered her immediate financial losses, afforded her a new membership to the International Association of Blacks in Dance (IABD) for three years, and kept her afloat for a few months. Charlita did not let limitations dampen her spirit. She remained optimistic, continuing to host seasonal shows, teaching the students to the best of her ability, and even collaborating on a short film featuring dance movement with Professor and Dance Colleague Dr. ChenziRa Davis-Kahina, former Founding/Inaugural Director at Virgin Islands Caribbean Cultural Center.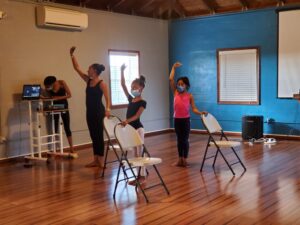 Mrs. Schuster told me a story of how one day she went walking. Deeply intuitive and connected as she is, she felt a hunch to go in a certain direction. Following this feeling, she found herself on a beautiful plot of land where Christian Missionaries were stationed. It housed several buildings including an auditorium hall with a stage and an upper level studio with polished wooden floors suitable for dancing- perfect for Music and Motion. After meeting with the owners, they offered Mrs. Schuster use of the space for free. This in-kind donation became the first of many building blocks to revive the studio in St. Croix. It was at this location that I taught a Master Class Workshop to Charlita's students and a handful of newcomers who were taking classes around the island as well. It was beautiful.
Never did I imagine, a full circle moment like this would come to fruition all from a simple and small gesture of outreach. The dancers had a full day. I taught them Ballet, Stretch/GYROKINESIS®, Jazz Across-the-Floor Combinations and Contemporary Repertoire. They also received a brief but comprehensive Dance History Lesson in which included bios on Black Dance Pioneers, the presence of the African/Caribbean Diaspora, and economics. In the end, I gifted 2 students with a copy of my book "A Broke Dancer's Guide to Success: Financial Literacy and Professionalism Basics," as well as Dr. Halifu Osumare's Memoir "Dancing in Blackness" of which I'd discovered during the International Association of Blacks in Dance Conference in Dayton, Ohio back in 2019.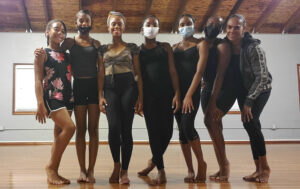 The students were a joy. I learned so much from them in the 2.5 hours we had together.  One was in middle school, while the others were high school students preparing to go off to college. We talked and talked until it was nearly 10 at night about the possibilities of dance in their future, college, other career interests, and life on the "mainland." It was eye-opening to think that just beyond the border, there is this vibrant Caribbean culture still very much connected to the dance performance community in the U.S., whether we realize it or not - whether we acknowledge them or not. It is there.
Charlita, having had a career of her own as a ballet dancer in New York City and Florida in the early days when dancers of color were very few, does her best to bring her world of knowledge not only to her own students at Music and Motion - but to the whole of St. Croix, teaching in the public school system and at the nearby university - all at the tender age of 60+. Her resilience, passion, zeal and enthusiasm for seeing that all who have a desire and a will to dance can - is commendable. I am glad to have been able to contribute to her efforts in more ways than one, affirming that Art brings people together, invokes healing, fosters community on a global scale and changes lives - forever.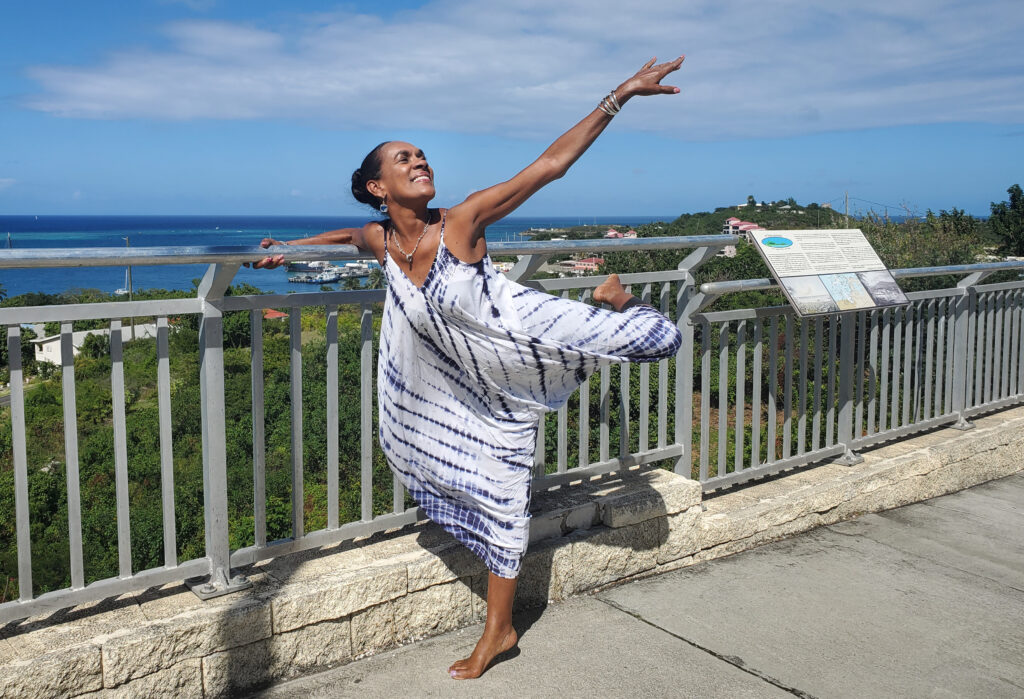 It was not easy to say goodbye to all that had transpired during that trip. I realize now that arts mission trips are needed more often than not and deserve greater visibility and funding. Today, Charlita remains open to the future of hosting more Teachers of Color from the mainland, as well as partnering with organizations that can streamline professional development resources to her community, provide career readiness support, and offer financial aid to Music and Motion School of Higher Education students. She has recently opened her studio in a new location with enrollment kickstarting her economic climb back to stability and success. This truly is a Phoenix on the rise, a full circle moment that demonstrates the fortitude, cross-cultural allyship, persistence and exceptional grace that Dancers are made of.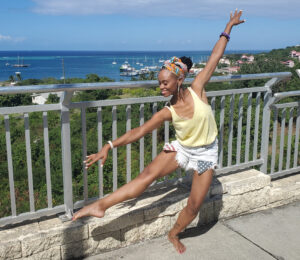 For persons who believe in Keeping Dance Alive and are compelled to support, we invite you to donate to the Dance Our Legacy Scholarship Fund by way of The International Association of Blacks in Dance, Inc. This award is applicable to both U.S. and overseas students seeking opportunities through summer program training, or an entrance into college on scholarship. Together as a community, we are able to make an impact in the lives of those who need it most, so we thank you in advance for your generous contribution. Visit the website: https://www.iabdassociation.org/ 
Kayla Harley is a Dance Scholar, Performing Artist, and Mentor. Her professional career in dance has gone full-circle to the DC metropolitan area where she serves the community as a GYROKINESISⓇ   Master Class Teacher and as a choreographer throughout the U.S.