- November 17, 2022 - 
NJ Governor Murphy Signs Legislation to Enhance Security for Large Venues
The New Jersey Governor, Phil Murphy, signed legislation this week strengthening the state's threat response infrastructure by enhancing security requirements for large venues. This bill requires sports and entertainment facilities capable of seating more than 5,000 people, movie theaters capable of seating more than 1,000 people, and places of worship capable of seating more than 500 people to annually prepare and maintain an emergency operations plan in coordination with the appropriate local fire, law enforcement, and emergency response agencies. The emergency operations plan must be submitted to the chief law enforcement officer who serves the municipality in which the sports and entertainment facility, movie theater, or place of worship is located.
More information is available on the State of New Jersey's website: https://www.nj.gov/governor/news/news/562022/20221114c.shtml?fbclid=IwAR1OMEO8BdZLniPLult6j7xcdfwDOAyWngsL4Kuy-El5q83HL41wNHpA2wE
- November 15, 2022 - 
Dancer Health Informational Papers from Dance/USA
Our colleagues at Dance/USA have added the paper, "Backstage First Aid Kits and Emergency Preparation" paper to their Dancer Health webpage. This paper covers how a proper first aid kit should contain all of the components necessary to administer appropriate first aid, as well as hold items specific to the needs of a traveling group or venue where the performance will be held.
The paper and others addressing dancer health are found at: https://www.danceusa.org/informational-papers
- November 7, 2022 - 
"The Role of the Artist: An Event with Puerto Rico's Cultural Community"
Our colleagues at Taller Comunidad La Goyco, CCCADI/Crossroads, and New Yorkers for Culture & Arts will present "The Role of the Artist: An Event with Puerto Rico's Cultural Community" on Nov. 11 in San Juan, PR.
The event will be produced with NYC cultural groups: Wildlife Conservation Society, Metropolitan Museum of Art, Wave Hill, Lincoln Center, Louis Armstrong House Museum, The Whitney Museum of American Art, The Chocolate Factory, NY Hall of Science.
NYC cultural workers and companies will present a donation to the community-based cultural groups on this panel as they recover and rebuild their communities. The fund is supported by The Wright Group, Cozen O'Connor Public Strategies, Park&K Public Affairs, Performing Arts Readiness Project/National Coalition for Arts Preparedness and Emergency Response (NCAPER), Amy Schwartzman.
Inspired by the quote of African-American author, documentary filmmaker, and social activist Toni Cade Bambara, this is a curated eventful afternoon in honor of Puerto Rico's artivists. Join us for a panel discussion with cultural groups from across Puerto Rico, moderated by Regina Bultrón Bengoa of CROSSROADS/CCCADI and Mariana Reyes Anglero of La Goyco. The panel will be followed by lunch, live music, free healing resources for the community, and self-guided tours of La Casa de La Plena.
PROGRAM
11am | Artist Talk: The Role Of The Artist is to make revolution irresistible
12pm-3pm | Lunch, live music, free healing resources, and self-guided tours of La Casa de La Plena
More information about this event is here: https://www.eventbrite.com/e/role-of-the-artist-a-cultural-event-w-puerto-rico-and-nyc-cultural-groups-tickets-463683569037
- August 8, 2022 - 
"6 Disaster Preparedness Tips" article
Our colleagues at Musicares have published the article, "6 Disaster Preparedness Tips: How The Music Community Can Be Ready For Emergency Situations" with an interview with Tom Clareson, the Project Director for the Performing Arts Readiness project:
"It may seem like it's hard to plan for a natural disaster or an emergency. But organizations like Performing Arts Readiness (PAR) have made it their mission to help people in the music community — and beyond — do just that.
Tom Clareson is the Project Director of Performing Arts Readiness project, which is an initiative funded by the Mellon Foundation that is dedicated to helping performing arts organizations prepare for emergencies, protect their assets, and sustain operation..."
The entire article on the Musicares website may be found here.
- February 10, 2022 - 
dPlan/ArtsReady 2.0 Preview Video

A new online emergency preparedness tool, dPlan/ArtsReady 2.0, will be launched in March 2022 offering customized plan elements for your arts or cultural organization, including a mobile app for incident management. Both dPlan and ArtsReady were their own separate tools that have been combined and upgraded, with funding from an Andrew W. Foundation grant awarded to LYRASIS for the Performing Arts Readiness project.
A 15-minute preview video is available on the PAR website giving information on the updated, intuitive tool for the arts and cultural sectors that is usable and functional regardless of an organization's size, scope, or discipline. The video is available here.
- February 1, 2022 -
NIVF Emergency Relief Fund
From our colleagues at The National Independent Venue Foundation (NIVF):
NIVF is announcing the relaunch of its Emergency Relief Fund. The NIVF Emergency Relief Fund (ERF) provides economic relief to independent, music and comedy venues, festivals, and promoters across the United States experiencing a severe financial emergency due to circumstances beyond their control.
While previously focused solely on mitigating the impact of COVID-19, the updated Emergency Relief Fund will now cover additional unforeseeable situations beyond the control of recipients, including natural disasters, future pandemics, and the lasting effects of COVID-19. The ERF is a crucial initiative for NIVF and aligns with its mission to preserve and nurture our national independent, live entertainment community.
Applications are being accepted on a rolling basis throughout the year and reviewed as received on a case-by-case basis by the ERF Committee under the direction of the NIVF Board of Directors. NIVF is committed to inclusivity, diversity, equity, and accessibility in its programs and decision-making processes, including the guidelines, application, criteria, and review process for the NIVF Emergency Relief Fund.
More detailed information about the fund, including a link for those that wish to apply or donate, can be found at https://www.nivassoc.org/erf.
- December 20, 2021 - 
Dallas Black Dance Theatre Thriving
As performing arts venues were closing in response to the COVID pandemic, the Dallas Black Dance Theatre decided to offer virtual performances for which they would charge fees. Thousands of tickets were sold and the Theatre took advantage of this opportunity to adapt performances to new spaces that were not possible before.
A video from PBS Arts tells the story of their successful adaptation.

- December 10, 2021 - 
New FEMA strategic plan focuses on equity and climate change
The Federal Emergency Management Agency (FEMA) has released their 2022-2026 Strategic Plan that puts an increased focus on the impact of climate change and seeks to correct their history of unequally distributing funds.
A letter from FEMA Administrator Deanne Criswell states, "This Strategic Plan identifies three ambitious goals we must achieve to address these challenges and to ensure we continue to be the FEMA our nation needs and deserves.
 First, we must instill equity as a foundation of emergency management. Systems that foster inequality serve no one, especially in times of crisis. We must recognize that disasters affect individuals and communities differently, commit ourselves to reducing barriers to access, and deliver equitable outcomes for all whom we serve.
 Second, we must lead the whole of community in climate resilience. We must recognize that we are facing a climate crisis and educate ourselves and the nation about the impacts our changing climate pose to the field of emergency management. We must integrate planning for future conditions, move away from incremental mitigation measures, and focus on large projects that protect infrastructure and community systems.
Third, we must promote and sustain a ready FEMA and prepared nation. We must recognize that the demands on emergency managers will only continue to increase. We must lean into this as a shared responsibility to prepare the nation's emergency managers and ready ourselves and the larger federal government to meet an expanding mission."
The entire FEMA Strategic Plan may be found here.
- November 16, 2021 - 
CNN has published the following article the danger of crowd surges and the importance and crowd management:
Deadly crowd surges have happened for decades. Safety standards exist, but they're not required nationwide
... There is no federal law on crowd safety. But the National Fire Protection Association's 101 Life Safety Code is considered the gold standard, said Wertheimer, who founded the Crowd Management Strategies consulting firm after The Who concert tragedy.
The code is revised every three years and has been adopted in more than 400 jurisdictions and agencies — from state fire marshals' offices to local governments, said engineer Tracy Vecchiarelli, the NFPA's standards lead for building fire protection and life safety.
The 2021 edition has several standards for crowd safety, including:
— Having at least one crowd manager for every 250 occupants at an event.
— In places larger than 10,000 square feet, the crowd density shouldn't exceed one person every 7 square feet (about 2.6 feet by 2.6 feet).
— There must be adequate access to exits. In areas without well-defined exits, the exits can be distributed around the perimeter as long as they can accommodate the entire crowd.
— Life safety evaluations are required for events with more than 6,000 people. Those evaluations must detail safety measures in case of medical emergencies, natural disasters and other possible emergencies.
The full article is here.
- November 15, 2021 - 
Following the tragedy at the Astroworld Festival in Houston, TX, NPR has published the article:
8 tips to follow if you're trapped in crushing crowd
When does a crowd become dangerous? Should you push back in a crush of people? Those are some of the questions you might be asking yourself after eight people died and more were hurt during a Travis Scott performance at the Astroworld Festival in Houston.
The tragedy put a spotlight on how organizers and emergency staff handled the event. But it also raises direct and personal questions about what we should do to avoid an unsafe crowd — and how you can help yourself and others.
"Most of the time what we do is we give advice to organizers" about managing crowds, says Mehdi Moussaïd, a research scientist in Berlin who studies crowd behavior. "But actually, we don't give so often advice to the people that are in there."
The full article with recommendations is here.
- November 8, 2021 - 
Tragic incident at Astroworld Festival in Houston, Texas
Our thoughts go out to the family and friends of those who passed away or were injured at the Astroworld Festival concert in Houston, Texas this weekend. We will be working over the next few weeks to feature news articles which provide suggestions on how to avoid these situations at future events.
Eight people died and more than twenty-five people were injured at the festival on November 5 when the crowd of attendees surged toward the stage. An article from CNN reports that, "Police are investigating the potential causes of the surge, which occurred at the Astroworld Festival at NRG Park and led to the deaths of eight people as well as many more injured. The show continued for 40 minutes after initial reports of spectators being harmed reached first responders."
NPR reports that, "Before the concert even started on Friday, the festival appeared to get off to a rough start. Videos posted by a local news channel show large crowds of people rushing through collapsed gates to get into the concert. No security guards were seen responding for over a minute, even as people, who can be heard screaming, became stuck underneath the crowd pushing to get in. Police arrived on horseback to the gate shortly after."
Our colleagues at the Event Safety Alliance have published a page that examines potential factors in the tragedy such as Security Staffing, Crowd Management Training, and the placement of Barricades noting that, "Barricade configuration is easy to get right and dangerous to get wrong. Tightly packed crowds suffer from basic physics in which the people in them tend to oscillate from side to side until someone cannot control their own body weight and falls down. Then the person next to them suffers the same fate, until there is a pile of people who are nearly invisible in the dark, pressing the air out of each other. Barricades in a T-shape at the front of a general admission crowd divide the force of sideways crowd pressure, and also create an aisle for security to see into the crowd in ways that are impossible with a barricade straight across the front of the stage. What was the barricade configuration at the front of the stage?" The full article is here.
The Performing Arts Readiness project works with performing arts organizations to assist them with planning for emergencies and increasing their capacity to respond to and recover from them. Recordings of our webinars including Safety and Security for the Performing Arts, Introduction to Festival Safety: The Art of Mass Gatherings Approach, and Risk Assessment for Performing Arts are on our website here.
- October 27, 2021 -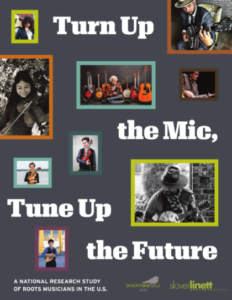 From our colleagues at Slover Linett:
We're delighted to announce the release of a new report, "Turn Up the Mic, Tune Up the Future: A National Research Study of Roots Musicians in the U.S." Commissioned by Whippoorwill Arts and undertaken in collaboration with the Blues Foundation, Folk Alliance International, Americana Music Association, International Bluegrass Music Association, Globalfest, and American Federation of Musicians, Local 1000, the study aimed to better understand the needs, challenges and aspirations of working musicians during the pandemic and beyond. The survey findings paint a dynamic picture of the artists who animate our nation's local venues and highlight the changes and investments needed to make musical careers and the broader music ecosystem more equitable and thriving.
More than 1,200 working musicians completed the survey, which was followed by group discussions with demographically diverse musicians to co-interpret the findings. The research sheds light on challenges musicians have faced for years and reveals how these "pre-existing conditions" have worsened in the pandemic era.
Read or download the report here.
- October 26, 2021 - 
From Entertainment Weekly:
The conflict and cost of touring in a pandemic By Christian Holub
The music of the Mountain Goats lives on stage. Fronted by John Darnielle, the North Carolina-based indie rockers have played more than 1,000 concerts over their multi-decade career. Live shows are "among the oldest things humans do," notes the 54-year-old singer. "To gather is a communal, spiritual, and arguably religious experience."
For bands residing in the middle to outer tiers of fame, touring has another component that is just as vital as the communal, spiritual, and religious — it is also an economic essential. So when COVID-19 vaccines started rolling out earlier this year, accompanied by reschedulings of delayed concerts and announcements of new tours, many were relieved. Superstars such as Drake and Taylor Swift can survive a delayed show or 200, but most artists — and the crews working for them — depend on concerts as their main source of income. Having few or none over the past 18 months has been brutal...(The full article is here.)
- September 22, 2021 - 
From our colleagues at ArtsReady:
News from HENTF, the Heritage Emergency National Task Force
FEMA Funding - Important News for Arts and Cultural Organizations
FEMA is now providing retroactive reimbursement for safe opening and operation costs incurred to address COVID safety for expenses incurred from Jan. 20, 2020, through Dec. 31, 2021. Eligible private nonprofits can apply. Reimbursement is exclusive to COVID-19 emergency and major disaster declarations through FEMA's Public Assistance program. Items that may be eligible for reimbursement include face coverings, Personal Protective Equipment, cleaning and disinfection, COVID-19 diagnostic testing, screening and temperature scanning and portable temporary physical barriers for social distancing. For more information, see COVID-19 Pandemic Safe Opening and Operation Work Eligible for Public Assistance Interim Policy (Version 2).9.8.21 Signed (fema.gov). Questions should be directed to a state's FEMA regional office.
Disaster Impact Reports
HENTF, the Heritage Emergency National Task Force, and its member organizations are gathering reports of damage to arts and cultural organizations following Ida, and Nicholas, and the California wildfires. According to HENTF Coordinator Lori Foley, "None of us, alone, can make much of a difference. But together, we can all help protect our threatened arts and cultural heritage as the Atlantic hurricane season shows no sign of abatement and the California wildfires continue to rage. We can't provide assistance to cultural institutions and arts organizations if we don't know who to reach out to." If you experienced, or know of, damage to organizations or artists in LA, MS, AL, NY, NJ, PA, MD, DE, and CA, please share any reports of damage with HENTF.
Cultural Property Protection Conference
The Smithsonian National Conference on Cultural Property Protection will be held October 4–5. This virtual event will explore the future of cultural heritage protection and preservation. Topics include social unrest, training best practices, emergency response, new technologies in security, exhibit access and safety, and more. For details and to register for this event, go to natconf.si.edu.
New Resources
The Arts Organizations at a Crossroads Toolkit: Managing Transitions and Preserving Assets
Recently produced by the National Coalition for Arts' Preparedness and Emergency Response (NCAPER), The Arts Organizations at a Crossroads Toolkit: Managing Transitions and Preserving Assets is a free, online resource. Over the last year, many arts and cultural organizations have found themselves at a crossroads of some sort. Recognizing that arts leaders do not always have the tools and information to weigh their options and make decisions in a proactive and thorough way, NCAPER has published The Toolkit which compiles guidance and material from highly-regarded sources from across the country into a clear, easy-to-navigate web-based resource.
The Arts Organizations at a Crossroads Toolkit: Managing Transitions and Preserving Assets guides arts leaders through three significant transitions they are likely to face during their organization's life: structural shifts; the loss of key staff/leadership; and recognizing that the artistic and physical assets they've created are worthy of protection and preservation. Each of these 'crossroads' is addressed in a section of the Toolkit. "Guidance for Making Legal and Structural Choices" presents the various options for exploring a different type of structure, dormancy or closure. "Protecting Your Knowledge Assets" focuses on cross-training and implementing a system for capturing the knowledge of key individuals. A third area, one which has not been a priority for the sector, is preserving institutional and artistic legacies. "Managing and Preserving Your Legacy" offers tips from professional archivists, and from arts organizations which have taken steps to protect their assets and reputation.
Register for a free introductory webinar on September 23, 2:00PM ET.
An Arts Field Guide to Federal Disaster Relief, for Arts Organizations and Businesses, Artists and Cultural Workers
This guide has also just been published by NCAPER. An Arts Field Guide to Federal Disaster Relief demystifies federal disaster relief for the arts and culture sector by helping artists and arts organizations see what is available, understand clearly what is not available, and decide if pursuing federal aid is a good use of time.
The Field Guide gives a snapshot of federal disaster assistance programs that can go into effect after a presidentially declared disaster and focuses on longstanding programs that are likely to continue. It includes in-depth information about financial assistance from the Federal Emergency Management Agency (FEMA) and the Small Business Administration (SBA) along with introductory information about other federal resources that provide a mixture of financial and other assistance.
A Spanish translation of the Arts Field Guide is coming soon.
- September 22, 2021 - 
This article from the World Economic Forum discusses a study of how people used music during COVID-19 lockdowns:
How music helped people cope with COVID-19 stress
Beyond the immediate health risks of the Covid-19 pandemic, the containment measures it necessitates have brought with them a number of other stressors that can undermine individual and collective well-being.
As part of an international research project, the Max Planck Institute for Empirical Aesthetics investigated whether musical engagement is an effective strategy for socio-emotional coping during lockdown.
The project team collected demographically representative samples from six countries on three continents during the first lockdown in April and May 2020. Over 5000 people from Germany, France, Great Britain, India, Italy, and the USA were asked in an online survey about how they engaged with music during the crisis. More than half of respondents reported using music to cope with emotional and social stressors.
"It's worth noting that music itself wasn't the coping aid, but rather, music-related behavior, specifically the ways people have adapted their musical behaviors during the crisis. In this regard, music listening and music making appear to provide different coping potentials," explains Melanie Wald-Fuhrmann, Director of the Max Planck Institute for Empirical Aesthetics.
People who experienced increased negative emotions due to the pandemic were found to engage with music primarily as a way to regulate depression, fear, and stress, especially via music listening. People who reported more positive emotions overall were found to use music largely as a replacement for social interaction. Not just music listening, but also music making gave them a sense of belonging to a community. Making music, moreover, served as a method for self-reflection...
Read the full article here.
- August 31, 2021 - 
From AP News:
Music industry weights vaccine mandates, but politics collide
The coronavirus vaccine gave the live entertainment industry hope for a rebound in 2021. Now, as COVID-19 cases surge and hospital beds fill up, it feels like March 2020 all over again.
Tom DeGeorge runs the popular Crowbar club in Tampa, Florida, that once hosted about 300 concerts a year, mostly touring bands. He managed to stay afloat and reopen last fall, hosting about six shows a month. But with cases surging in Florida, show cancellations have racked up and attendance has plummeted.
"The amount of people that are coming out right now is I'd say about 25, 30 percent of what it should be," said DeGeorge. "I have a feeling that I'm probably going to lose the majority of my fall and winter calendar, but I'm basically already mentally prepared for the worst-case scenario." Read more here.

- July 21, 2021 -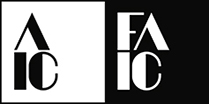 On July 14, our colleagues at the Foundation for Advancement in Conservation (FAIC) hosted the webinar "Emergency Planning and Response, Texas-Style" with a discussion of response efforts following Polar Vortex Uri in February 2021 presented by Olivia Primanis from the Texas Collections Emergency Resource Alliance (TX-CERA) and Lauren Hainley from the Houston Arts Alliance (HAA).
Instructor - Olivia Primanis
Olivia Primanis received her training through an apprenticeship in hand book binding and book conservation beginning in 1974 with Jean Gunner at Hunt Botanical Library, Carnegie Mellon University, in Pittsburgh. Pa. In 1975 she founded and was the sole proprietor of "The Bookbinder" that offered artists' supplies, hand bookbinding (for area institutions such as the University of Pittsburgh Rare Book Collections) and classes in hand book binding. In 1984 she moved to Los Angeles, CA where she taught book conservation and consulted for area institutions, including The Clark Library (UCLA); Scripps College (Claremont) and the Getty Center and Museum. Following the L.A. Public Library fire, she consulted with Solex Inc on the drying of 160,000 books. From 1990 until January 2019, she held the position of Head of the Book Lab (Senior Conservator since 1991) at the Ransom Center, University of Texas, Austin, where she performed conservation treatments, trained staff and interns, lectured, and participated in the administration of the Conservation Department. At this time, she is consulting on library preservation, performing book conservation treatments in her private business and, as a founding member, taking an active role in the activities of Texas Collections Emergency Response Alliance (TX-CERA).
Instructor - Lauren Hainley
Lauren Hainley is the Director of Disaster Service at the Houston Arts Alliance where she ensures that the Houston area arts, culture, and historic preservation communities are ready and resilient in the face of disaster. Lauren received a BA in Theater from Hendrix College and an MA in Arts Leadership from the University of Houston. Lauren has been active in the Houston theater community as an actor, stage manager, and director since 1992.  Find out more about Lauren, her work, and her projects at laurenhainley.com.
A recording of this webinar is available from FAIC here.
- July 12, 2021 -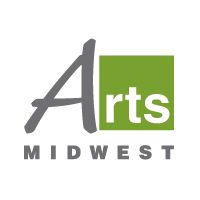 Grow, Invest, Gather fund for Midwestern presenting organizations
Arts Midwest is offering grants to Midwestern presenting organizations with their Grow, Invest, Gather (GIG) grand fund:
WHAT: The GIG Fund is a flexible grant of $2,500 that helps organizations bring touring artists into their community.
WHEN: Applications are due October 5, 2021, and funded projects must occur between January – June 2022.
WHERE: Nonprofit organizations located in Illinois, Indiana, Iowa, Michigan, Minnesota, North Dakota, Ohio, South Dakota, or Wisconsin and the Native nations that share this geography can apply.
WHO: This funding is available to not-for-profit arts organizations looking to present a touring artist. Additional funds are available for organizations presenting Indigenous performing artists.
Program guidelines and application are here.
A webinar for interested applicants will be held on August 10, 2021 at 11am Central. Click here to register.
- July 9, 2021 -
From our colleagues at Dance/USA:
Dance/USA Releases New Study on the Impact of COVID-19 on the Dance Field
As a result of the current pandemic, the arts and cultural sector, especially the dance field, has been one of the hardest hit industries. Dance organizations were among the first to shutter performance venues and will be among the last industries to resume operations and recover. Dance/USA, the national service organization for professional dance, today released a new report, The Impact of COVID-19 on the Field of Dance: Part II, examining the effects of the COVID-19 pandemic on the dance sector in the United States.  
In March 2020 Dance/USA launched a survey to assess the initial impact of the pandemic on the dance field. Today's follow-up study measures the actual effects of COVID-19 and reflects the experiences of dance organizations and individuals working in dance.   
"This new report reflects just how devastating COVID-19 has been on the dance field," commented Dance/USA Executive Director Kellee Edusei. "The results also show that federal relief programs were vital and financially sustained many in the dance community during the height of the pandemic. Additionally, the report demonstrates just how resilient and creative the dance field is. Many took this opportunity to reimagine new pathways forward, and this is why the performing arts sector will recover renewed and refreshed."
"While dancemakers and dance organizations are hanging on and will rebound, it will take time to recover," said Dance/USA Director of Research Shakira Segundo. "As the field recovers, I am excited to see what will come and how dancemakers evolve to reach new audiences."
The Impact of COVID-19 on the Field of Dance: Part II is divided into two sections. The first focuses on dance organizations including dance companies, presenters, dance schools, and dance service organizations; and the second examines individuals working in dance such as dancers, choreographers, and independent arts professionals. Key findings include:
The majority of dance company respondents reported a decline in ticket sales of more than 74%. 
The number of pre-recorded and virtual productions increased by more than 250%.
The areas of greatest concern for dance organizations include re-opening, regaining or achieving financial stability, and bringing employees and audiences back safely.
The impact of the pandemic has been exceptionally critical on individuals in the dance field.
The most urgent need as expressed by individuals working in dance was access to mental health resources. That was closely followed by support for their physical health and maintenance, and access to IT equipment and resources.
46% of individual respondents reported that they applied for unemployment.
Approximately 80% of individual respondents reported they were unemployed during the pandemic and 50% of individual respondents are still not back to work yet.
Dance/USA's goal in administering this survey and analysis of the field is to be able to make the necessary connections between individuals and organizations in the field, to provide access to needed resources, and continue to advocate on behalf of the field for much needed relief.
To access both the initial study and the follow-up findings, please find the materials on the Dance/USA website here. 
About Dance/USA 
Propelled by our belief that dance can inspire a more just and humane world, Dance/USA will amplify the power of dance to inform and inspire a nation where creativity and the field thrive.
Established in 1982, Dance/USA champions an inclusive and equitable dance field by leading, convening, advocating, and supporting individuals and organizations.  Dance/USA's core programs are focused in the areas of engagement, advocacy, research, and preservation. Learn more about Dance/USA at danceusa.org.
- May 18, 2021 -
From our colleagues at the National Independent Venue Association and Event Safety Alliance:
SAFE IN SOUND: A REOPENING CHECKLIST FOR THE LIVE ENTERTAINMENT INDUSTRY
As people in the U.S. continue to get vaccinated and cities and states begin to reopen, the National Independent Venue Association (NIVA) and Event Safety Alliance (ESA), in partnership with Association of Performing Arts Professionals (APAP), Coalition of Performing Arts Centers, and National Independent Talent Organization (NITO) have joined together to research, create and present "Safe In Sound," a reopening checklist for the live entertainment industry. This toolkit was developed after consultation with the CDC and based on the most up-to-date guidance and resources available at Guidance for COVID-19 | CDC. It serves as the framework for venues and promoters to reopen fully as safely as possible.
"'Safe In Sound' compiles expansive yet easily digestible information and recommendations provided by the Centers for Disease Control and Prevention and other public health experts and delivers it in a form tailored specifically for our industry," said Sean Lynch, co-chair of NIVA's Reopening Task Force. "As we return to these vital social environments, we need to make sure it's done safely and comfortably for artists, staff, and patrons alike. We can't wait to return to work and provide the live entertainment experience so many have missed."
The checklist addresses every major issue involved in producing a safe live event, both front of house and back of house.
The checklist is available for download here.
- May 17, 2021 -
The National Risk Index (NRI)
From our colleagues at FEMA:
"The National Risk Index (The Index) is an online tool to help illustrate the nation's communities most at risk of natural hazards. It is made possible through a collaboration between FEMA and dozens of partners in academia; local, state and federal government; and private industry.
The Index leverages best available source data to provide a holistic view of community-level risk nationwide by combining multiple hazards with socioeconomic and built environment factors. It calculates a baseline relative risk measurement for each United States county and census tract for 18 natural hazards, based on Expected Annual Loss, Social Vulnerability, and Community Resilience.
The Index is intended to help users better understand the natural hazard risk of their respective areas or communities. Intended users include planners and emergency managers at the local, regional, state and federal levels, as well as other decision makers and interested members of the general public. With improved understanding of natural hazard risk, communities can take action to reduce it."
The Index may be found here.
- May 6, 2021 -
Reopening Guides and Related Resources
As performing arts venues reopen to in-person audiences across the U.S., the New York City Department of Cultural Affairs has provided a list of reopening guides and related resources on their Coronavirus Resources webpage:
American Repertory Theater Roadmap for Recovery and Resilience for Theater:
https://americanrepertorytheater.org/roadmap-for-recovery-and-resilience-for-theater/
Artnet News: "How Should a Museum Reopen in a Post-COVID World? Here Is Everything You Need to Know to Do It Safely, According to Experts": https://news.artnet.com/art-world/museum-reopening-table-1867743?mc_cid=9729d1e888&mc_eid=2c2b135b21
ASHRAE (American Society of Heating, Refrigerating and Air-Conditioning Engineers) - "Guidance for Building Operations During the COVID-19 Pandemic": https://www.ashrae.org/file%20library/technical%20resources/ashrae%20journal/2020journaldocuments/72-74_ieq_schoen.pdf
Association of Zoos & Aquariums Reopening Webinar Series: https://www.aza.org/webinars
Cushman & Wakefield - "Recovery Readiness: A How-to Guide For Reopening Your Workplace": https://www.cushmanwakefield.com/en/insights/covid-19/recovery-readiness-a-how-to-guide-for-reopening-your-workplace
The Event Safety Alliance Reopening Guide: https://www.eventsafetyalliance.org/esa-reopening-guide
Facilities Health: https://facilitieshealth.com/
The Global Association for the Attractions Industry Reopening Guidance: Considerations for the Attractions Industry: https://www.iaapa.org/reopening-guidance-considerations-attractions-industry
Museum Association of New York - Re-Opening Museums: https://nysmuseums.org/COVID19resources#reopening
National Endowment for the Arts - "The Road Forward": Review the publication.
NYC Museums Reopening Task Force Guidelines: https://www1.nyc.gov/assets/dcla/downloads/pdf/NYC-Museum-Reopening-TaskForce-COVID-19-Guidelines-Reopening-NYCMuseums.pdf
Performing Arts Center Consortium Guide to Reopening Theatrical Venues: https://www.ams-analytics.com/wp-content/uploads/2020/05/PACC_Reopening_Advisory-Draft-Ver4.pdf
Reopening Archives, Libraries, and Museums (REALM) Information Hub: A COVID-19 Research Project: https://www.webjunction.org/explore-topics/COVID-19-research-project.html
Additional resources are on the New York City Department of Cultural Affairs Coronavirus Resources webpage.
- April 29, 2021 -
Shuttered Venue Operators Guide (SVOG)
The U.S. Small Business Administration has established the Shuttered Venue Operators Grant (SVOG) to provide over $16 billion in grants to shuttered venues, to be administered by the SBA's Office of Disaster Assistance.
Eligible applicants may qualify for grants equal to 45% of their gross earned revenue, with the maximum amount available for a single grant award of $10 million. $2 billion is reserved for eligible applications with up to 50 full-time employees.
From the American's for the Arts Action Fund:
Arts Action Fund List of Key Eligibility Guidelines for SVO Grants:
Definition Eligibility: For live venue operators, producers, and live performing arts organization operators, you need to show that at least 70% of 2019 earned revenue comes from ticket sales, production fees, nonprofit education initiatives or sale of food & beverage.
Minimum Loss Eligibility: For live venue operators, producers, and live performing arts organization operators, museums and movie theaters, you need to show at least a 25% reduction in gross earned revenue during at least one quarter of 2020 as compared to the corresponding quarter in 2019.
Federal Grants Eligibility: For live venue operators, producers, and live performing arts organization operators, museums and movie theaters, you need to show that no more than 10% of your 2019 gross revenue comes from Federal funding. (This does not include CARES Act funding for things like PPP, etc)
Priority Grants Eligibility: For live venue operators, producers, and live performing arts organization operators, museums and movie theaters, you need to show at least a 90%, 70% or 25% loss in earned income for the period from 4/1/20 through 12/31/20, as compared to the same period in 2019.
Size of SVO Grant Award Eligibility: For live venue operators, producers, and live performing arts organization operators, museums and movie theaters in operation by 1/1/19, you can apply for 45% of your 2019 gross earned revenue, up to a $10 million cap.
The SVOG application and more information is here.
###
- April 7, 2021 -
Your Guide to Music and the Sustainable Development Goals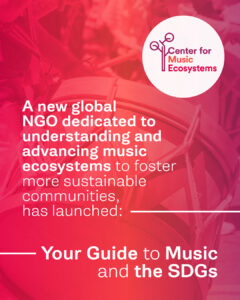 The Center for Music Ecosystems, a new global NGO dedicated to understanding and advancing music ecosystems to foster more sustainable communities has launched Your Guide to Music and the SDGs, the most expansive report ever written linking music - in all its forms and functions, to the Sustainable Development Goals.
Written in collaboration with UN Agencies and debuted by the  UN SDG Action Campaign,  the detailed Guide outlines the role that music plays across each of the 17 Sustainable Development Goals and describes examples from around the world.
The Guide is available for all to download and read at https://www.centerformusicecosystems.com/sdgs.
###
- February 18, 2021 -
Winter Weather Recovery Tips for Texas and Southern Arts Organizations
Performing Arts Readiness staff members are closely monitoring the winter storm and power outages that are affecting Texas this week.  If your performing arts organization has questions about topics such as winterizing your building or recovering from storm damage, please contact PAR Project Director Tom Clareson at [email protected] or 800-999-8558, ext. 2911.
Here are some initial tips for building and personal safety during the current crisis:
When it is possible for you or your colleagues to do this safely (both due to inclement weather and health conditions), do an interior and exterior building walk-through and perimeter walk to determine if there has been any damage to your facility. PAR and LYRASIS have a number of documents available on what to watch for as you are doing these building inspections.
If you own your building or are a tenant, please have your facilities staff, utilities contractors, or landlord look at these areas:

Roof (for leaks and weight-bearing)
Below-grade or basement levels (for foundation damage or leaks)
Outbuildings or offsite storage facilities
Pest management (insects, rodents, snakes, and other animals may come into buildings for warmth, water, and food)
Frozen pipes: Pipes in unoccupied buildings or unheated areas such as attics, ceilings, and crawlspaces should be drained when possible.  Insulate pipes in exterior walls and monitor them for freezing.  During extreme cold, leave cabinet drawers under sinks open if they are on an outside wall to let warmth from the room closer to the pipes.
Heating/Ventilation/Air Conditioning (HVAC) systems and thermostats: Make sure air intakes or outflows are not blocked by snow or covered by ice.  Check to see that they are operating normally or reach out to your HVAC contractor for assistance.

Call 211 for City Services in your area to find warming centers and other resources; have telephone numbers for utilities close at hand in case shutoff is needed; and have disaster recovery vendor information and phone numbers close by.
Check with your insurance agent to see if losses from snow, burst popes, and other storm-related damage are covered under your current policies.
Personal safety suggestions include, for those without heat, "blanket-wrapping" – putting a blanket over your head and wrapping it around your shoulders and arms to capture the heat coming off of your head.
We always suggest working with your Local Arts Agency and local Emergency Management Agency first; if you need further assistance, please contact PAR or one of our regional, state, or national partners.
Houston Arts Alliance is a long-time partner with PAR and has helpful information and services when any type of disaster strikes. When power stabilizes, please check their website at houstonartsalliance.com or www.ready.haatx.com for information on local disaster recovery options and their Greater Houston Area Arts Relief Fund page to help local artists and organizations affected by disasters.
TX-CERA (Texas Collections Emergency Resource Alliance) is an excellent statewide information source on Emergency Recovery in Texas. Please reach them at txcera.org.
Nationally, our Partners NCAPER (The National Coalition on Arts' Preparedness and Emergency Response) at ncaper.org and CERF+, the Artists Safety Net, at www.cerfplus.org have additional resources for arts organizations and individual artists affected by disasters.
# # #
- February 1, 2021 -
Our colleagues at Arts Midwest  have developed the GIG (Grow, Invest, Gather) Fund to provide support to Midwestern arts organizations as they re-build and re-imagine during the continued uncertainty caused by COVID-19.
Grants of $2,500 will support costs associated with engaging artists in community experiences as safely as possible given the current circumstances of the pandemic. Grants can be also allocated be towards capacity building work. Applications are due on May 3rd, 2021. 
 More information is here.
# # #
- February 1, 2021 -
For Immediate Release
Gretna Music Announces Gretna Arts Safety Plan (GASP)
Media Contact: Mika E. Cook, Grant Coordinator, Phone: 717-361-1508, Email address: [email protected]
Mt. Gretna, PA – Gretna Music and the Pennsylvania Chautauqua are spearheading the development  of a safety network called the Gretna Arts Safety Plan (GASP). GASP will focus on making Mt. Gretna a safer place for visitors and residents though disaster prevention and preparation as well as safety trainings.
The grant was awarded by the Performing Arts Readiness project and funded by the Andrew. W. Mellon Foundation. Through this grant, Mt. Gretna organizations involved in arts and events, with assistance from the Mt. Gretna Borough, Mt. Gretna Fire Department, Lebanon Department of Emergency Services, and Western Lebanon County Regional Emergency Management Agency are developing a comprehensive plan. Others orgs. involved include: Gretna Theatre, Mt. Gretna School of Art, Mt Gretna Bible Festival, Campmeeting Association, Mt. Gretna Area Historical Society, and Mt. Gretna Outdoor Art Show.
"This grant is helping organizations come together and focus on making safety a priority and help us be prepared for worst case scenarios. All involved with GASP want to make sure our patrons and local Mt. Gretnans know we care about their well-being and we are doing all that we can to create safe environments to participate in the arts" says Mika E. Cook, the grant coordinator.
Evacuation plans, communication alerts, weather disaster plans, first aid, fire extinguisher training, and Covid-19 safety compliance, are among the areas identified by GASP that are being worked on.
The mission statement of GASP is: Through an earnest commitment to safety and preparedness, our organizations will work to create a secure and proactive environment for the residents and visitors of Mt. Gretna by educating leaders on safety and implementing art preparedness plans.
If you are interested in more information or being involved with GASP, please contact Mika Cook at [email protected]  or 717-361-1508.
# # #
- January 26, 2021 -
The Peabody Institute will present the free virtual symposium "The Next Normal: Arts Innovation and Resilience in a Post-COVID World" on February 10, 2021. Arts industry leaders will explore the path forward for artists and organizations and the long-term, post-COVID landscape for the performing arts.
More information is here: https://bit.ly/3qfjG3C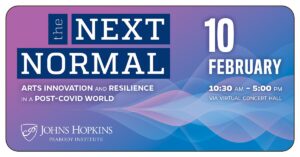 ###
- January 21, 2021 -
Our colleagues at The Duluth Playhouse have created two documents that outline their health and safety procedures for re-opening for in-person performances and classes during the current COVID-19 health crisis. These documents are good models for other theaters that are preparing to open their doors to audiences and students. These are external documents that can be viewed outside of the Playhouse. Your internal health and safety procedures should have more detailed information for situations such as dealing with non-cooperative audience members.
Their Safety and Health Plan lists procedures for staff, performers, and audiences during live performances and rehearsals. The document may be downloaded from this page.
Their Safety Guidelines for Classes outlines protocols for in-person classes based on the recommendations from the MN Department of Health and CDC. The document may be downloaded from this page.
Please feel free to adapt the content of these document to the specific needs of your organization. Duluth Playhouse is a PAR Emergency Network leader for the Northern Minnesota Group.
###
- December 22, 2020 -

On December 21, 2020, the U.S. Congress passed a $900 billion COVID stimulus bill that includes $15 billion in grants for live venues and theaters as part of the Save Our Stages Act.
From Rolling Stone: "While the Covid-19 pandemic has rattled numerous industries, venues have been in a particularly perilous spot because many were not able to take advantage of the Paycheck Protection Program loans for small businesses contained in the CARES Act, which passed in March. Forgiveness on those loans hinged on businesses spending 75% on payroll, but for shuttered venues, there were few to no employees and thus no payroll to cover. That left venues with no revenue and massive overhead." The full article is here.
From the website of Senator Amy Klobuchar:
"The Save Our Stages Act would:
Narrowly define independent live venue operators, promoters, and talent representatives to prevent large, international corporations from receiving federal grant funding
Direct the SBA to make grants to eligible venues equal to the lesser of either 45 percent of operation costs from calendar year 2019 or $12 million
Allow the Small Business Administrator to issue supplemental grants in the future if funding remains available and applicants can demonstrate need
Permit recipients to use grants for costs incurred during the COVID pandemic
Require recipients to return remaining funding after one year from the date of disbursement
Permit recipients to use grants for rent, utilities, mortgage obligations, PPE procurement, payments to contractors, regular maintenance, administrative costs, taxes, operating leases, and capital expenditures related to meeting state, local, or federal social distancing guidelines
Authorize the appropriation of $10 billion for the grant program
The full post is here.
###
- November 20, 2020 -
Our colleagues at Valley Arts and Entertainment will rebroadcast the The 7th Annual Alabama Women in Jazz Festival on Facebook Live on November 28th at 6pm CST. The festival was presented virtually in September will give viewers an opportunity to view performances by Ginetta's Vendetta©, Anisha Rush, Hope Clayburn, Ruby Camille, Yuressa Shonta, with host Wellington Bullings
Valley Arts and Entertainment received support from the PAR project and Majestic Collaborations through the Art of Mass Gatherings program to assist with the virtualization of their in-person annual festival. More information is here.
###
- October 30, 2020 - (The following content was prepared in association with our partners at Majestic Collaborations in response to concerns about potential civil unrest in the U.S.)
Preparedness for Civil Unrest
In the past year, some arts and cultural venues have experienced destructive acts to their building. These community centers have often been at the flash point of civil unrest that surround them, and sometimes targeted because of what they represent. We all share the values of civil rights and peaceful protest. With these values in mind, we wanted to put forward a quick and shareable resource about preparedness for your organization as we come into November, that helps provide guidance for what people who exert control over physical space can do to contribute to creating a safe environment for all. Our preparedness plan focuses on three main steps–assess, prepare, implement—that you and your team can take to prepare in times of civil unrest. We hope these steps will act as a useful guide to ensure the safety of your staff and organization.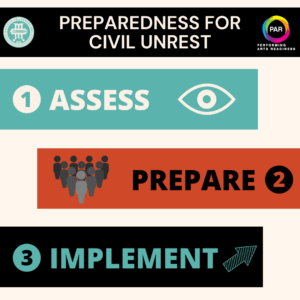 The first step is to assess your organization's situation. Ask yourself what happened the last time there was civil unrest in your area and use those lessons to inform your actions. Ensure you conduct a site walk through, communicate with neighbors, locate and update important information, and secure or relocate your assets.
ASSESS
Security & Fire: Ensure cameras, locks, alarms, sprinklers, and extinguishers are fully functional;
Hazards: Walk your site, making note of dumpsters, planters, rocks, and flammables;
Recent Past: Use lessons learned from previous events to prioritize actions now;
Neighbors: Learn about their concerns and plans for civil unrest.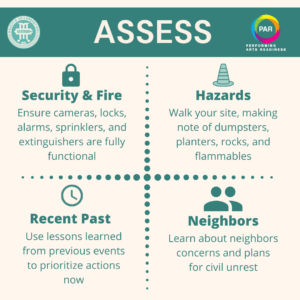 It is also important to engage in preventative measures to prepare your organization. Scheduling additional security for the day of a protest or election day is a good step in preparing your site. For the safety of your staff, communicate the plan to all staff members and ensure everyone is involved. Practice by sending test communications and running lockdown and evacuation drills.
PREPARE
Remove: Remove projectiles such as rocks, planters, stanchions, trash cans, as well as obstructions to security camera sightlines;
Purchase & Contract: Plywood or window film to protect windows, graffiti removal supplies, additional security, and perimeter fencing;
Relocate: Irreplaceable art, records, and expensive equipment offsite or to interior, locked rooms;
Plan, Practice, & Update: Plan and practice for building lockdowns and evacuations, and ensure staff, first responders, and security contacts and protocols are up to date.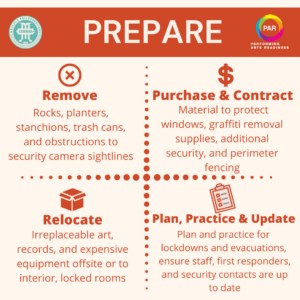 Once you've created a plan, be ready to implement it. It's better to have a plan in place for evacuation or lockdown that didn't end up necessary than to have wished you had. Don't be afraid to take precautions and prioritize the safety of your staff and organization.
IMPLEMENT
Remain Calm: Having a clear head will help you adapt in quickly changing situations
Prioritize Staff Safety: Ensure staff members are not present at highly volatile times
Stay Informed: Monitor local news  sources and the social media accounts of local and state officials
Act!: Be ready to call a shelter in place, lockdown, or evacuation, and safely call for medical attention for people you observe in need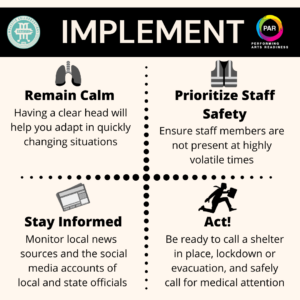 Please consider sharing this guide with venues and performing arts and cultural organizations. We welcome feedback and discussion. If you would like to get future updates on preparedness and skill sharing in arts and cultural communities please reach out to [email protected]. If you would like more information about The Art Of Mass Gatherings or Modifications & Virtualizations for Performing Arts please contact: [email protected]
###
- September 24, 2020 - 
From our colleagues at Sound Diplomacy:
AN ONLINE TOOLKIT TO GET MORE CARES ACT RELIEF
TO VENUES, MUSICIANS AND MUSIC BUSINESSES
#CARESFORMUSIC
A number of national music organizations, led by Sound Diplomacy and gener8tor, have launched ​#CARESFORMUSIC​, a toolkit to support cities, towns, and counties to utilize existing CARES relief to invest in their local music economies. In partnership with the National Independent Venue Association (NIVA), Music Business Association, National Independent Talent Organization (NITO), the Recording Academy​® ​and others, the toolkit supports musicians, music venues, theatres, and music businesses in obtaining and deploying existing CARES Act funding available now to creative communities across America.
As of the end of August, only 19.3% of all CARES relief provided to states, counties and cities has been allocated. In some states and cities, the amount used is less than 1%. At the same time, up-to 90% of independent music venues, theatres, and cultural institutions are threatened with permanent closure and musicians have lost livelihoods, with tours and festival bookings cancelled.
By providing clear, replicable examples from states and cities - from Oregon, Denver, Tallahassee, Seattle, Tulsa and Indianapolis - that have used CARES relief to support both the for-profit and non-for-profit music businesses, ​#CARESFORMUSIC​ hopes to simplify how CARES can be a tool, ​right now​, to provide relief, stop bankruptcies and speed up the recovery everywhere.
Music and culture is an investment in public health and local economies all over America. For every $1 spent on a concert ticket at small venues in America's towns and cities, $12 of economic impact is generated. Yet, the US is estimated to lose​ 2.7 million jobs​ and more than$150 billion​ in creative businesses due to the pandemic. These estimated losses represent 50% of all jobs in those industries and ​more than a quarter of all lost sales nationwide. Existing CARES funding can assuage this by providing immediate investment and relief in communities across America.
A host of music organizations and professionals contributed to the toolkit, including The Venue Group, World Cafe Live,  MusicPortland (Oregon), Wickham James Strategies & Solutions, Oregon Independent Venue Alliance, Indiana Music Venue Alliance, Soundcorps Chattanooga, Tallahassee Arts, Madison Music City, Urban Arts Community Network and Denver Arts and Venues. The toolkit is available for free, no strings attached, to anyone who wishes to use it at
www.caresformusic.com
#caresformusic. More information is
here
.
###
- June 16, 2020 - 
Our colleagues at the Performing Arts Center Consortium have created the "Guide to Reopening Theatrical Venues" recognizing that until a COVID-19 vaccine and/or effective therapeutics become widely available, it may be many months before we can return to the mass gathering venues as we once were. The Guide will assist performing arts centers develop viable reopening plans that are tailored to their unique venues: Download PDF here.
###
- March 9, 2020 -
Our colleagues at Americans for the Arts have posted the article, "Arts and Culture Sector Can Prepare for the Coronavirus in the United States":
"Like most of you, Americans for the Arts has been watching the breaking news about Coronavirus Disease 2019 (COVID-19) and we are seeing inquiries coming in from the field and through our national service organization colleagues. While gathering and sharing pertinent information, we are also working to understand the long-term effect on arts and culture activities from performance to festivals, touring artists, and school field trips... more information here"
###
- January 30, 2020 -
PRESS RELEASE
Contact: Tom Clareson, Project Director, Performing Arts Readiness, [email protected], 800.999.8558 x 2911
LYRASIS Receives Phase 2 Funding from The Andrew W. Mellon Foundation to Continue Performing Arts Readiness Project
Atlanta, GA - January 17, 2020 - The Performing Arts Readiness project is pleased to announce that the Andrew W. Mellon Foundation has awarded a second round of funding to LYRASIS to support a second phase of the project. The new grant targets $2.3 million toward this next phase, which will build upon the core goal of strengthening resiliency among performing arts organizations by improving emergency preparedness practices. The new grant targets $2.3 million toward this second phase, which will build upon the core goal of strengthening resiliency among performing arts organizations by improving emergency preparedness practices.
Over the past several years, the United States has seen numerous performing arts organizations impacted and in some cases their work halted because of environmental emergencies such as fires, hurricanes, flooding and more, as well as by man-made crises. This grant is designed to create awareness and develop preparedness plans in advance of disasters, so that recovery is quicker and more efficient, and to provide information and resources for recovery when crises strike.
The first phase of the Performing Arts Readiness (PAR) project conducted extensive outreach to the performing arts community, including emergency preparedness presentations, webinars, and live workshops; provided online planning tools and case studies; offered six regional "Circuit Rider" mentoring programs to support local adoption of best practices; and awarded 41 grants to assist organizations in developing disaster plans and 10 grants to build networks among arts and culture organizations and first responders.  In addition, PAR staff worked with organizations impacted by disasters such as Hurricanes Harvey, Irma, Maria, and more.
The second phase will continue the work conducted in phase one and will also include:
New outreach to university graduate-degree programs in arts management and administration, to encourage inclusion of emergency preparedness as part of their curricula.
A focus on safety, security, and environmental issues at performing arts and music festivals.
Expansion of information resources (models, best practices, templates, etc.), educational programs, online planning tools, and subgrants to enable organizations of different types and sizes to create emergency or continuity of operations plans and train staff and volunteers in their use.
Growing local community-based support and capacity for emergency preparedness and recovery through mentoring via five new Circuit Riders, hosted by local arts and culture organizations.
Perform research into field needs and opportunities around preparedness, response and recovery to form a sustainability plan for PAR that integrates support and action among partners and other organizations committed to strengthening cultural arts and heritage in the U.S.
"With support from the Mellon Foundation, LYRASIS, and our project partners, the Performing Arts Readiness project has helped many organizations learn about recent developments in emergency preparedness, disaster recovery, and archiving of their business and historic organizational records.  We are pleased to be able to continue and expand our service to the community and address new areas around festival safety and arts administration education activities," said Performing Arts Readiness Project Director Tom Clareson.
In addition to LYRASIS, partners engaged in PAR through the project's Steering Committee are the Conservation Center for Art & Historic Artifacts, Intermuseum Conservation Association, International Association of Blacks in Dance, Midwest Art Conservation Center, National Coalition for Arts' Preparedness and Emergency Response, National Performance Network/Visual Artists Network, New Jersey State Council on the Arts, Northeast Document Conservation Center, South Arts, and Western Arts Alliance.
Please direct any inquiries about PAR's upcoming Circuit Riders, grants, or other programs to: [email protected]
###
- June 6, 2019 -
"The Art of Mass Gatherings" symposium will take place in Denver, CO on June 6. This event will educate and empower our colleagues to prepare for and respond to various types of emergencies, including natural, manmade, and technical disasters.
Through a curated curriculum and specific skill-sharing opportunities, this symposium will embrace a whole community approach to event safety and preparedness and will offer suggestions and solutions to enhance events and gatherings. The symposium will feature experts from around the country as they present one case study, six on-site tours, and five short, fast-paced presentations. Symposium hosts coordinated with PrideFest organizers to allow on-site learning during the festival; this will allow presenters to highlight the festival's emergency plan and gain insights about how an event can both excel and mature while developing a complete emergency preparedness plan.
More information is here.
###
- May 23, 2019 -
The New Jersey Cultural Alliance for Response (NJCAR) invites New Jersey arts, history, and cultural organizations to learn more about the Alliance, build networks, and find resources to better prepare their organizations for emergencies both large and small. Three regional kickoff meetings have been scheduled: 6/10/19 (Central Jersey), 6/12/19 (North Jersey), 6/17/19 (South Jersey). More information about NJCAR and these three meetings is at: https://njculturalalliance.wixsite.com/njcar/single-post/2019/05/17/NJCAR-Regional-Kick-Off-Meetings
###
- March 11, 2019 -
The PAR project has seen a strong growing interest in training on Active Shooter situations from Performing Arts organizations. We are working in a number of states to match interested performing arts groups with Active Shooter training providers.  Please contact us at [email protected] if you need this information for your organization. Ready Houston has created a widely-utilized training video called "Run. Hide. Fight." that contains survival strategies for active shooter events.
# # #
- March 4, 2019 -
Article: "Houston Arts Alliance Helps Artists and Organizations Get Ready & Resilient"
Hurricane Harvey dumped some 15 trillion gallons of water on the Bayou City, creating havoc for the Downtown theater district, along with many artists and arts organizations. Hurricane season in Texas lasts June thru November, although in recent years, it seems like it never leaves us. Mentally, it is a year-round event, as all those in the region still suffering from the effects of Hurricane Harvey over a year later will attest.
The Houston Arts Alliance (HAA) is partnering with Galveston Historical Foundation on a regional arts preparedness and recovery system funded in part by the Houston Endowment. The Houston Area Arts and History Disaster Resilience Plan will help artists prepare for the next sudden and/or historic event. HAA will also focus on building up their website as an evergreen resource for artists to access at any time and facilitate preparedness workshops when hurricane season looms again.
Read the full article here and visit HAA's new Disaster Resilience website for readiness and resilience resources to learn more.
###
- November 26, 2018 - For immediate release, Contact: Eric Covey, 802-828-2148
Vermont Secretary of State's Office and Vermont Arts Council Receive Emergency Preparedness Grant
Montpelier, VT – Secretary of State Jim Condos and State Archivist Tanya Marshall announced today that the Vermont Secretary of State's Office, in collaboration with the Vermont Arts Council, has been awarded a $15,000 grant to develop a statewide emergency preparedness and response network for Vermont-based performing arts and cultural heritage organizations. Funded by the Andrew W. Mellon Foundation through the Performing Arts Readiness Project, the grant will be administered by the Vermont Historical Records Program of the Vermont State Archives and Records Administration.
"Vermont's performing arts and cultural heritage organizations play a vital role in the promotion and preservation of our unique history and cultural institutions," said Secretary Condos. "We're grateful for this opportunity to work alongside our partners to ensure we have the preparedness measures in place to help prevent the loss of these valuable assets in a worst case scenario."
Vermont native and accomplished arts management consultant Mary Margaret Schoenfeld will lead the effort and work with various organizations to develop the network and services offered, as well as a sustainability plan. The statewide emergency preparedness and response network is anticipated to be introduced at a forum next summer.
The mission of the Vermont Historical Records Program (VHRP) is to improve public access to and engagement with Vermont historical records and to encourage and facilitate collaborative efforts among Vermont historical records repositories. The Vermont Arts Council envisions a Vermont where all people have access to the arts and creativity in their lives, education, and communities.
Performing arts organizations can be especially vulnerable to disasters and emergencies of all kinds, resulting in destabilizing or catastrophic loss of income and assets. The Performing Arts Readiness project helps organizations nationwide learn how to protect their assets, sustain operations, and be prepared for emergencies. The project includes outreach and engagement efforts, the development and dissemination of information resources and online toolkits, mentoring programs, and grants such as the one awarded to Vermont.
For additional information about VHRP or the statewide emergency preparedness and response network, contact VHRP Coordinator Rachel Onuf at [email protected] or 802-828-2204.
# # #
- November 15, 2018 - FOR IMMEDIATE RELEASE:
CONTACT: Will Wright, Chief Creative Officer, Office: 409-765-3404, [email protected]
HOUSTON ARTS ALLIANCE & GALVESTON HISTORICAL FOUNDATION ANNOUNCE THE DEVELOPMENT OF A REGIONAL ARTS PREPAREDNESS SYSTEM: GHF and HAA to Engage the Entire Arts Community in Creating Plan for the Next Sudden, Historic Disruption
Galveston Island, Texas, November 15, 2018—Houston Arts Alliance (HAA) and Galveston Historical Foundation (GHF) today announced the start of a planning process for a regional arts preparedness and recovery system. With input from the larger arts and culture community and with grants from Houston Endowment, HAA and GHF will create coordinated programs to help arts and cultural organizations and individual artists in the ten-county region prepare for the next sudden or historic disruption. When the effort is successful, the work may also serve as a model for other arts preparedness planning efforts statewide and nationally.
After both Hurricanes Ike and Harvey, the arts and cultural organizations and individual artists comprising the region's largely non-profit sector suffered losses and faced challenges to recover as never before. Hurricane Harvey especially highlighted the lack of a coordinated response and recovery system in place for arts organizations.
"There is a critical need to develop a model network for communication and education that would enhance all emergency planning, response, and recovery," said Dwayne Jones, Executive Director of Galveston Historical Foundation and a longtime leader in cultural response and recovery for the region.
According to national research, Houston's cultural economy is valued at $1.1. billion. It's estimated that there are more than 1,000 arts and cultural organizations in the region and that culture supports 26,000 full-time jobs and generates $801.6 million in household income locally.
"It is crucial for our community to prepare for future disasters in order to minimize damage to Houston's robust cultural economy," said John Abodeely, CEO of Houston Arts Alliance. "Given its scale, creating resilience is an economic imperative, as well as a moral one."
This new collectively led and community-driven planning process—with input from a robust Advisory Committee composed of artists, arts managers, and public officials—will seek to understand how the region is vulnerable and what must be done to assure its long-term security. This deep dive into the region's creative sector will include large and small institutions, artists, philanthropists, public sector officials, leaders of cultural districts, and others. The resulting plan for resilience will ensure Houston is ready to act on behalf of the entire region's incredible diversity.
"We hope that members of the arts sector will be able to draw on one another's lessons learned from both Harvey and Ike to strengthen the resilience of the entire arts ecosystem," said Long Chu, program officer at Houston Endowment, which will remain engaged throughout the planning process.
Additionally, the project will collect contact information from arts and cultural organizations throughout the region. Information collected will be stored in a database for program managers to send detailed communications before, during, and after disasters to the region's creative economy. Pre-disaster recommendations as well as resources for post-disaster needs will be part of a larger regional communications plan, all intended to keep organizations connected to the resources and information needed in crucial times. Individual assistance, as well as regional meetings will result in a more resilient arts and cultural community in the region.
For more information on the Greater Houston-Galveston Arts and Cultural Response and Recovery Program, contact John Abodeely at 713-527-9330 or [email protected] or contact program manager Bekah Guedry at 409-765-3403 or [email protected].
ABOUT HOUSTON ARTS ALLIANCE
Houston Arts Alliance (HAA) is a local arts and culture agency that enhances the quality of life in Houston by advancing the arts, the working lives of artists, and the operations of cultural nonprofits. HAA helps artists and arts organizations create bold work; collect and disseminate data about the arts; connect communities to creative experiences; and incubate innovation. The Houston Arts Alliance executes special projects to meet the needs of the arts community, as needs arise. HAA also runs two primary programs: Grants + Capacity Building and Civic Art + Design, which includes the City of Houston's public art and arts grants initiatives. Currently, HAA is executing disaster resilience trainings for artists and nonprofits with support from Performing Arts Readiness project, Rebuild Texas, Southwest Airlines, and several Houston philanthropists. Visit them online at www.houstonartsalliance.com.
ABOUT GALVESTON HISTORICAL FOUNDATION
GHF was formed as the Galveston Historical Society in 1871 and merged with a new organization created in 1954 as a non-profit entity devoted to historic preservation and history in Galveston County. Over the last sixty years, GHF has expanded its mission to encompass community redevelopment, historic preservation advocacy, maritime preservation, coastal resiliency and stewardship of historic properties. GHF embraces a broader vision of history and architecture that encompasses advancements in environmental and natural sciences and their intersection with historic buildings and coastal life and conceives of history as an engaging story of individual lives and experiences on Galveston Island from the 19th century to the present day. They can be found online at www.galvestonhistory.org.
For more information, please contact Will Wright, Galveston Historical Foundation's Chief Creative Officer at 409-765-3404 or [email protected].
# # #
- November 14, 2018 - from CERF+: "As we continue to hear about the impact of the wildfires in California, CERF+ is reaching out to artists and arts organizations in affected communities to provide emergency relief and useful recovery resources." More information is here.
- November 13, 2018: Press Release from the Oregon Historical Society: "The Portland Alliance for Response Receives Performing Arts Readiness Grant" - Portland Alliance for Response, a local network of arts and culture institutions, including Oregon Historical Society, Oregon Symphony, Portland'5 Centers for the Arts, Portland Art Museum, Lewis and Clark College, Portland State University, and Portland Bureau of Emergency Management, is pleased to announce that we have received a grant from Performing Arts Readiness, funded by the Andrew W. Mellon Foundation. Portland Alliance for Response works with local cultural institutions, first responders, and emergency managers in the Portland, Oregon, metro area to develop relationships that foster mutual understanding. The grant will allow the Alliance to expand its reach to include performing arts organizations in a cooperative network to safeguard our cultural heritage and artistic legacy through effective communication and coordination of disaster preparedness and emergency response efforts.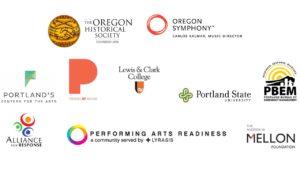 Over the next several months, we will work with a consultant to create an organizational structure and strategic goals. Our planning process will culminate in a networking event in 2019 to build membership from a broad array of performing arts organizations, libraries, archives, museums, emergency management agencies, and first response services.
Press Contact: Shawna Gandy, Library Director, Oregon Historical Society, 503.306.5265 (desk), [email protected]
- November 13, 2018: Emergency Preparedness 101 is a half-day workshop presented on December 13 at Kelly Strayhorn Theater's Alloy Studios in Pittsburgh, PA. This session is designed for organizations of all sizes with varying years of operation, and at all stages of preparedness planning. We will cover an intro to disaster and business continuity planning, risk assessment exercises, information on the PAR project, as well as other available resources. More information and registration details are here.
- October, 2018: New Jersey State Council on the Arts Names Allison Tratner as Executive Director: TRENTON, N.J. - The New Jersey State Council on the Arts has named Allison Tratner as the new Executive Director. The final vote confirming Ms. Tratner as the Executive Director was made yesterday during the Council's public meeting at Perkins Center for the Arts in Collingswood. (The full press release from the New Jersey State Council on the Arts is here. )
- October, 2018: "Houston Arts Alliance: Disasters won't bully us again" Harvey wrought $56 million in disaster-related damages to artists and arts organizations last year. Despite tough lessons learned, most artists and arts and history organizations in the Houston area remain unprepared for the next disaster... (The full article is on the Houston Chronicle website here.)
- October, 2018: "Puerto Rico: After the Storm" Ramón H. Rivera-Servera has spearheaded an innovative outreach initiative to assist Puerto Rican artists in the aftermath of last fall's devastating hurricane. With a personal and professional foundation in performance and creation, Rivera-Servera homed in on this population: art makers and scholars who because of the storm were displaced, no longer able to work, or suddenly without the financial support that once sustained them. He decided to establish a residency and mentorship program for Puerto Rican artists to create, teach, and research on both the island and the mainland... (The full article is on the Andrew W. Mellon Foundation website here.)
- September 11, 2018: Here are some additional links and tips for preparing for Hurricane Florence:
- For tips on what to do before, during, and after a hurricane, go to https://www.ready.gov/hurricanes.
- Download FEMA fact sheets "After the Flood: Advice for Salvaging Damaged Family Treasures" and "Salvaging Water-Damaged Family Valuables and Heirlooms," available at https://www.fema.gov/media-library/assets/documents/113297.
- Familiarize yourself with the disaster declaration process in case one is declared for your state, https://www.fema.gov/disaster-declaration-process.
- Track the storm via the National Hurricane Center, https://www.nhc.noaa.gov/.
- Monitor information via GEMA, http://www.gema.ga.gov/.
- September 10, 2018 - From our colleagues at ArtsReady:
ArtsReady Alert
Hurricane Florence is approaching the US East Coast, and will likely have landfall Thursday or Friday. Residents of North Carolina, South Carolina, and Virginia should anticipate impact and prepare accordingly. If you have an ArtsReady/readiness plan, we hope that triggering it into action provides you with the ability to prepare for the storm. If not, we encourage you to take a few basic steps to prepare your office/venue/studio for the potential impact before departing for your personal preparation - unless you are under an evacuation order, in which case you should follow the instructions of local/state officials immediately.
If you aren't in the hurricane's path, please use this time to take a look at your own readiness planning in the event of a future emergency. Visit ArtsReady to start or build upon your readiness plan; sign up for free webinars on a variety of readiness and disaster planning offered through the Performing Arts Readiness project; and sign up to get regular information on grants, trainings and programs to improve your organization's readiness and resiliency (much of this project's content is relevant to arts organizations and artists of all disciplines).
Be Prepared! Please use and share the following resources to ensure you are ready:
HENFT Hurricane Preparedness Tips for Cultural Institutions
Cerf+'s Resources for Artists:
Hurricane - Studio Readiness
Flood - Studio Readiness
Studio Evacuation
A few additional tips for arts organizations:
Assign a readiness/emergency leader for your organization through whom all communications and information should be relayed. Decide who makes the decision about suspending operations/events, and how those decisions are communicated.
Ensure you can carry out banking activity remotely, and that staff can work remotely if your offices/facility are inaccessible.
If practical, de-install exhibits that may be threatened by weather or water and remove to a safer location.
Secure outdoor sculptures, furniture, bike racks, signage, etc. – anything that can become a projectile in strong winds.
Move costumes, scenery, instruments, valuable equipment and collections that are in areas vulnerable to flooding (i.e., the floor, the basement) or susceptible to rain (near windows or under roofs) out of harm's way.
Emergency Management Offices:
General Weather Event Resources:
If your facility is impacted, there are a number of resources to assist you:
https://www.artsready.org/home/public_article/887
And more resources are listed at https://www.lyrasis.org/LYRASIS%20Digital/Pages/Preservation%20Services/Disaster%20Resources/Response-and-Recovery.aspx
It's important for ArtsReady and our colleagues who help the arts community with readiness, response and recovery to know about the impact of such events on artists and arts organizations. Please be in touch with us when it is safe to do so to share your situation. - Team ArtsReady
- July 2018: The American Documentary (AmDoc) Artist Emergeny Fund offers one-time awards of up to $1,000 each to professional mediamakers who are facing financial emergencies due to unforeseen personal calamities such as health issues, eviction, or disasters. More information is here.
- In June 2018, ICA Art Conservation published an article to prompt discussions about the impact of power outages due to extreme weather on performing arts organizations. The article is here.
- June 2018 – "Safety Awareness for Performing Arts" is the topic of the PAR/New Jersey State Council on the Arts monthly newsletter.  The article is found here and contains recommendations for performing arts organizations and contains links to resources.
- On May 30, 2018, the PAR project will present the new webinar, "Community Recovery Through Arts and Culture." This free session addresses the vital role that arts and culture play in recovery from disasters and focuses on how you, as performing arts organizations, can engage in this work. More information and the registration link are here.
- On May 24, 2018, theatre and performance artists from Puerto Rico will present, "Puerto Rico: Theatre after Hurricane Maria" at the Segal Theatre in NY. The evening will feature presentations, demonstrations, as well as an open forum to discuss the current state of performance and politics on the island. The event will be livestreamed. More information is here.
- May 2018 – "Hurricane Preparedness for Performing Arts" is the topic of the PAR/New Jersey State Council on the Arts monthly newsletter.  The article is found here and contains recommendations for performing arts organizations and contains links to resources.
- From April 23-June 7, 2018, FEMA seeks comments on the Individual Assistance Policy and Program Guide. The Guide will provide a single comprehensive reference document for all FEMA Individual Assistance (IA) programs. Visit here to review the Guide and provide comments.
- April 2018 – "Volunteer Preparedness – Health and Safety" is the topic of the PAR/New Jersey State Council on the Arts monthly newsletter.  The article is found here and provides recommendations for emergency preparedness training for volunteers and contains links to resources.
- On April 3, 2018, Houston Mayor Sylvester Turner announced that the City of Houston will receive the Arts & Sciences Cities of Distinction Award from the Phi Beta Kappa Society in recognition of the quality, depth, range and vibrancy of its community engagement with the arts and sciences. More information is in this press release.
- March 2018 – "Fire Safety in Theatres" is the topic of the PAR/New Jersey State Council on the Arts monthly newsletter. The article is found here and provides fire prevention tips and links to resources.
- In March 2018, the Performing Arts Readiness project awarded the Amistad Research Center and the New Orleans Jazz Museum a grant of $15,000 to provide for the establishment of the New Orleans Preservation Coalition. The coalition will provide opportunities for preservation education, disaster response, and related activities to sustain and protect the area's arts and cultural heritage. More information is in this press release.
- In March 2018, the Performing Arts Readiness project began looking for performing arts organizations to host one of four Emergency Preparedness Consultants/Circuit Riders for 12 months between July 1, 2018 and June 30, 2019. These EPC/Circuit Riders will work directly with performing arts organizations on a local level providing expertise, training, consulting, and mentoring to staffs and Boards regarding effective emergency preparedness. More information and application forms are available here.
- February 2018 – "Ensuring the Safety of All Patrons" is the topic of the PAR/New Jersey State Council on the Arts monthly newsletter. The article is found here and focuses on the importance of an organization's need to meet the needs of those with special needs during an emergency.
- In January 2018, the Andrew W. Mellon Foundation awarded PAR project partner South Arts a three-year grant totaling $500,000 to support the National Coalition for Arts' Preparedness and Emergency Response (NCAPER) which is the only arts readiness, response, and recovery organization in the U.S. serving all artistic disciplines. The full press release is here.
- January 2018 – "Performing Arts and Community Response and Recovery" is the topic of the PAR/NJ State Council on the Arts monthly newsletter. The article is found here and contains a discussion of the experiences of organizations during emergencies and provides recommendations for preparation with links to resources.
- On January 12-16, 2018, PAR Performing Arts Coordinator Jan Newcomb ([email protected]) and PAR Project Partner Mollie Quinlan-Hayes, Deputy Director and Accessibility Coordinator of South Arts ([email protected]), will host the PAR exhibit table Association of Performing Arts Professionals Conference in New York City (https://www.apap365.org/Conference).
- The December 2017 article "What It's Like to Evacuate a Museum in a Natural Disaster" published in The Atlantic is an account of recent emergency response training at the Smithsonian in Washington, DC. If your performing arts organization would like to host a similar training, please contact the Performing Arts Readiness project at [email protected].
- December 2017 – "Preparing for Winter Weather" is the topic of the PAR/New Jersey State Council on the Arts monthly newsletter. The article is found here and contains recommendations for performing arts organizations to ensure the safety of patrons and performers during winter weather emergencies.
- November 2017 – "Is Your Venue Secure?" is the topic of the PAR/NJ State Council on the Arts monthly newsletter. The article is found here and contains a discussion of event safety with links to planning resources.
- October 2017 – "Cybersecurxity Month" is the theme of the October PAR/New Jersey State Council on the Arts monthly newsletter. The article is found here and provides recommendations for making the data stored by performing arts organizations more secure.
- September 2017 - "In the Eye of the Storm: How Federal Funding Rescues Arts and Culture in Times of Disaster" was posted by Tom Clareson, Performing Arts Readiness Project Director, on the Andrew W. Mellon Foundation's "Shared Experiences" blog. The article describes the important role of agencies like the NEA, NEH, and IMLS in the provision of a safety net for the arts and culture community. The article is here.
- September 2017 – The September monthly PAR/New Jersey State Council on the Arts newsletter introduces Ellen Korpar, the PAR Emergency Preparedness Consultant for the state of New Jersey. Ellen will provide one-on-one consulting, planning services, and group training to performing arts readiness. More information is here.
LYRASIS
LYRASIS is a non-profit membership organization that supports enduring access to shared academic, scientific and cultural heritage through leadership in open technologies, content services, digital solutions and collaboration with archives, libraries, museums and knowledge communities worldwide. Learn more at lyrasis.org.
The Andrew W. Mellon Foundation
Founded in 1969, the Andrew W. Mellon Foundation endeavors to strengthen, promote, and, where necessary, defend the contributions of the humanities and the arts to human flourishing and to the well-being of diverse and democratic societies by supporting exemplary institutions of higher education and culture as they renew and provide access to an invaluable heritage of ambitious, path-breaking work. Additional information is available at mellon.org.
ArtsReady at South Arts
ArtsReady, an online emergency preparedness service by and for arts/cultural nonprofits, provides arts organizations with customized business continuity plans for post-crisis sustainability. ArtsReady is a national initiative of South Arts. South Arts, one of the nation's six regional arts organizations, strengthens the South through advancing excellence in the arts, connecting the arts to key state and national policies and nurturing a vibrant quality of life. South Arts works in partnership with the state arts agencies of Alabama, Florida, Georgia, Kentucky, Louisiana, Mississippi, North Carolina, South Carolina, and Tennessee.  The ArtsReady Library and online planning tool are at www.artsready.org.
Conservation Center for Art & Historic Artifacts
The Conservation Center for Art & Historic Artifacts (CCAHA) is a nonprofit conservation facility specializing in the treatment of works on paper, photographs, and books through conservation and state-of-the-art digital imaging services. Founded in 1977, CCAHA serves nonprofit cultural institutions, private individuals, and other collecting organizations.  To learn more, please visit www.ccaha.org.
THE INTERNATIONAL ASSOCIATION OF BLACKS IN DANCE
THE INTERNATIONAL ASSOCIATION OF BLACKS IN DANCE (IABD) preserves and promotes dance by people of African ancestry or origin, and assists and increases opportunities for artists in advocacy, audience development, education, funding, networking, performance, philosophical dialogue, and touring. IABD has become the Mecca for Blacks in Dance such as administrators, artists, choreographers, dance companies, directors, educators, scholars, students, teachers, and those interested in artistry, black dance issues, and performance presentations. The Association provides a network, formal newsletters, choreographers directory, published papers and is the raison d'être for the annual international conference and festival. IABD also responds to and initiates dialogue around issues that impact the Black Dance Community as well as the Dance community at large. The Association has developed national prominence and allowed the Black Dance Community to come together on issues important to them. www.iabdassociation.org
ICA – Art Conservation
ICA – Art Conservation (ICA) was the nation's first non-profit regional art conservation center. The organization was founded in 1952 by the directors of six major Midwestern museums to provide professional, high quality, and cost-effective art conservation services. It was the model used by the National Endowment for the Arts, when it began dispersing start-up funding to create a network of similar centers across the United States in 1971. ICA is the lead partner for NEOAFR (Northeast Ohio Alliance for Response) an organization of individuals from non-profit cultural institutions and allied professionals that provides planned events and opportunities for education and outreach. It also shares information to its members and the community in support of disaster preparedness. ICA remains dedicated to "art and cultural heritage preservation, conservation, and education" for the benefit of all the citizens of Ohio and the lower Midwest. To learn more, please visit http://www.ica-artconservation.org/.
Midwest Art Conservation Center
The Midwest Art Conservation Center is a non-profit regional center for the preservation and conservation of art and artifacts, providing treatment, education, and training for museums, historical societies, libraries, other cultural institutions, artists, and the public.  To learn more, visit www.preserveart.org.
National Performance Network
The National Performance Network, including the Visual Artists Network (NPN/VAN), is a group of diverse cultural organizers and artists, working to create meaningful partnerships and to provide leadership that enables the practice and public experience of the arts in the United States.  For additional information, visit www.npnweb.org.
National Coalition for Arts' Preparedness and Emergency Response
The Coalition is a voluntary network of government agencies, private organizations and individuals dedicated to building and sustaining an organized safety net of services, tools and information for those involved in the arts and culture sector – artists, arts/culture organizations and arts businesses – before, during, and after disasters and emergencies. The Coalition also collaborates with other sectors at national, regional, and local levels to strengthen recovery efforts in the larger community. Learn more here.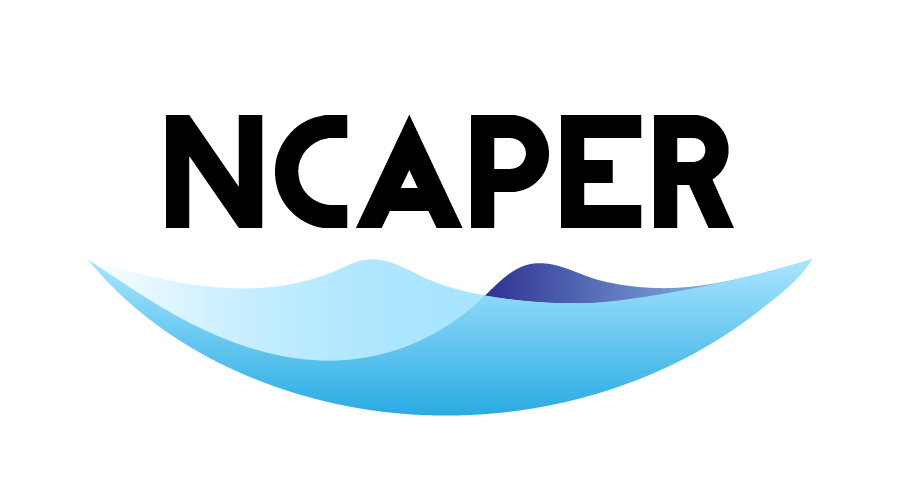 New Jersey State Council on the Arts
The New Jersey State Council on the Arts, created in 1966, is a division of the NJ Department of State. The Council was established to encourage and foster public interest in the arts; enlarge public and private resources devoted to the arts; promote freedom of expression in the arts; and facilitate the inclusion of art in every public building in New Jersey. The Council receives direct appropriations from the State of New Jersey through a dedicated, renewable Hotel/Motel Occupancy fee, as well as competitive grants from the National Endowment for the Arts. To learn more about the Council, please visit www.artscouncil.nj.gov.
Northeast Document Conservation Center
Founded in 1973, the nonprofit Northeast Document Conservation Center serves museums, libraries, archives, and individuals nationwide. NEDCC provides conservation treatment for book and paper collections as well as digital imaging, audio preservation, assessments, consultations, training, and disaster assistance. To learn more, visit www.nedcc.org.
Western Arts Alliance
Western Arts Alliance (WAA) is a membership association of touring and performing arts professionals engaged in promoting and presenting performing arts throughout the western states and provinces. Serving members since 1967, WAA's annual booking conference and its year-round programs are essential for artists, artist managers, presenters, and other performing arts professionals in the west. More than 680 artists, managers, presenters, arts service organizations, and state arts agencies know WAA as a trusted and vital resource. https://www.westarts.org/